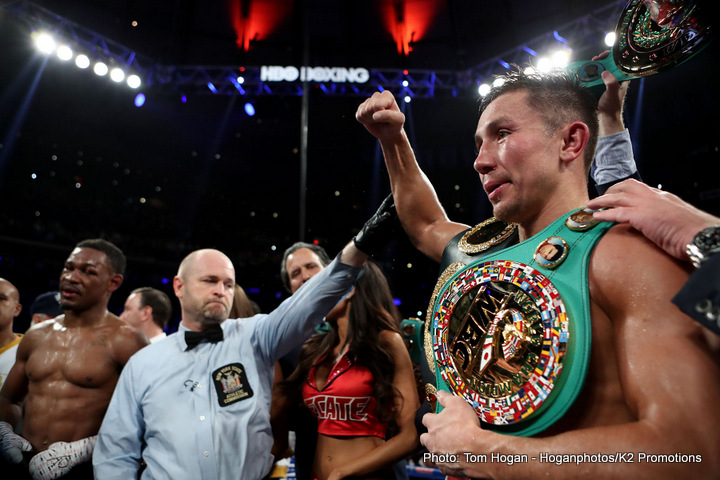 Has your opinion changed any on who wins if and when (hopefully when) Gennady Golovkin and Canelo Alvarez get it on? Maybe you always felt the Mexican superstar would be able to take GGG and his belts and unbeaten record, or maybe you feel this way now in light of how, shall we say, 'ordinary,' Golovkin looked on Saturday night in scraping past a determined and skilled Danny Jacobs?
Of course, Canelo fights nothing much like "The Miracle Man," and it will be an entirely different fight when these two finally rumble, but has Golovkin's stock dropped at least a little bit due to his performance against Jacobs? It seems it has, but enough for the majority of fight fans and experts to now pick Canelo to beat him?
Maybe Golovkin had an off night on Saturday, maybe he's starting to slow down (he will turn 35 on April 8), maybe Jacobs is the second best middleweight on the planet? A lot of questions sprang up after Triple-G's tough and close night, chief amongst these: can Canelo KO a Golovkin who got tagged with so many shots from Jacobs?
Again, tactics-wise, we will almost certainly see a different GGG against Canelo, but against Jacobs Golovkin was making an effort to be cautious, not wanting to get caught by anything big. In spite of this approach, however, GGG was tagged aplenty, in the second half of the fight especially. Maye Golovkin, a man used to walking through everyone and everything, has picked up some bad habits defence-wise; maybe he's never had an airtight defensive approach anyway.
Canelo does not have hands as fast as Jacobs, but if he can get home with as many head shots – and body shots, Jacobs having plenty of success downstairs on Saturday – as the New Yorker did, GGG could be in big, big trouble. Let's see how Canelo does against Julio Cesar Chavez Jr. on May 6 (after all, if Canelo puts on a poor or average display of his own, the perception of who the favourite between he and GGG is could shift again) – but right now, it appears we have an even super-fight on our hands.
Will GGG take another fight before the hoped for September monster fight? Should he do so? It just might be that after 37 pro fights and 18 title defences, GGG is past his best, enough so to be taken.