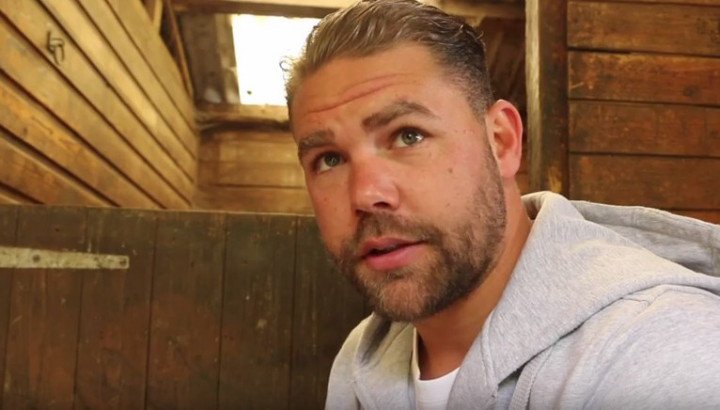 "I've seen flaws I can take advantage of"
After narrowly, even controversially, outpointing Danny Jacobs on Saturday night, middleweight ruler Gennady Golovkin is looking at his next move. Will it be Canelo Alvarez next, or will it be Billy Joe Saunders? Saunders hopes it will be he who gets the next shot at GGG.
In actuality, Saunders would be defending his title, the WBO version, in a unification fight with Triple-G. And as fans know, this last remaining belt is something Golovkin badly wants. According to a piece in The Telegraph, no deal has yet been made for GGG's next fight, his promoter Tom Loeffler telling the publication that there are "options to assess."
But unbeaten southpaw Saunders is very definitely one of these options and there is a strong possibility Golovkin-Saunders could take place in Kazakhstan in-between June and September. And BJS is confident he would outbox "puncher" Golovkin if given the chance.
"Golovkin is strong bu he can be outboxed," Saunders, 24-0(12) said. "A boxer always beats a puncher and he has never faced anyone as awkward or tricky as me. I've seen faults and flaws in him that I know I can take advantage of. I want to see how good I really am. In my own head, I know I am capable of beating him. [Danny] Jacobs isn't in my class when I am on form. I'll travel anywhere to fight him, I'm not bothered about fighting him in Kazakhstan."
While it's debatable that Jacobs – who really did come so close to beating Golovkin, many people feeling he actually did so – isn't in Saunders' class, BJS is definitely a fine boxer. With speed of hand and some tricky southpaw moves in his arsenal, the 27 year-old will certainly have seen his confidence and belief go up due to the Jacobs fight. Saunders would of course have to perform a whole lot better than he did in his last fight, when he looked poor in decisioning Artur Akavov in December.
But Golovkin looked less than great against Jacobs. 'You're only as good as your last fight,' says the old boxing adage. In truth both GGG and BJS looked somewhat average in their most recent fights. All of a sudden, people are giving an in-shape, fully motivated Saunders a decent shot at beating Golovkin.
If this did happen, where would it leave the GGG-Canelo fight?