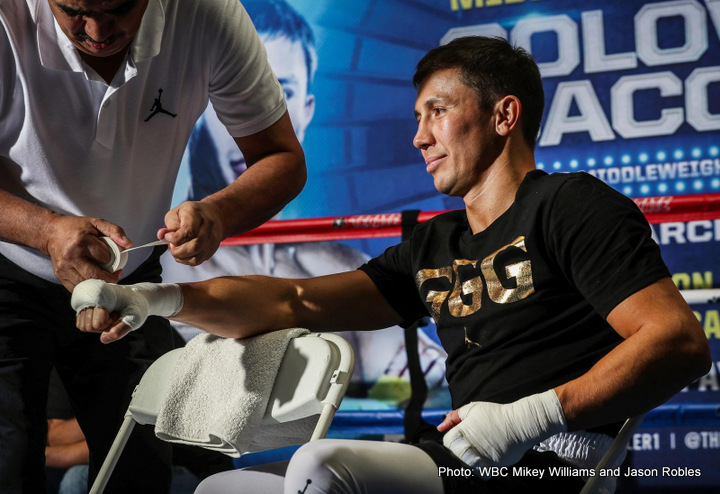 The boxing world is, it's fair to say, still in shock due to the news that broke earlier this week, with Mexican superstar Canelo Alvarez testing positive for a banned substance (one creative poster on this site dubbing Canelo "Clenelo" due to his testing positive for Clenbuterol).
But it is as we know no laughing matter. Fans have been asking, out loud, plenty of very serious questions: should the rematch between Canelo and Gennady Golovkin, set for May 5 in Las Vegas, even go ahead? Will a Canelo win be forever tarnished should he manage to achieve victory?
As per ESPN.com, world middleweight king Golovkin finally broke his silence on the matter, speaking yesterday from his training camp.
"My first reaction, you know, really? Are you serious!," GGG said. "Because I know him, he's good boxer. Maybe he's extra boxer, not regular boxer. I believe he doesn't need medicals or drugs. Right now, he tests positive – it's terrible for sport. I respect my sport, I love clean sport. He's test positive, that's it! I believe commission. Only two: yes no. For me this is terrible."
Golovkin did not exactly say the fight, as far as he is concerned, is now off; but in his broken English, Triple-G may well have implied that it should be off. As GGG says, Canelo has failed a drugs test and, "that's it!"
Golovkin added how to him it does not matter just what Canelo has tested positive for, simply that he DID test positive for ANY illegal substance.
Golovkin, for now, remains in camp, training and working hard, but we must wait and see if the rematch goes ahead as scheduled, and what punishment if any Canelo is dealt with.
Knowing Golovkin and his fearlessness and willingness to fight the best, the May 5 sequel we all really want to see (or, in the case of many, did want to see; this latest example of a very high-profile fighter failing a drugs test turning off many fans) will still go ahead.
And what plaudits will Golovkin rightfully receive should he defeat Canelo in emphatic fashion, this despite all that has gone on? Most fans feel GGG won the first fight back in September, and if he manages to defeat a so-called "juiced up" fighter, then Golovkin really will return home from Vegas as a hero.
It must be pointed out once again, though, how there is a chance (a very small one in the opinion of many fans) that Canelo is innocent of any wrongdoing and that he did, as he maintains, injest the Clenbuterol that was found in his system from eating infected meat in Mexico. But again, Golovkin has said he is going with the commission who carried out the testing.
Canelo tested positive and "that's it!"