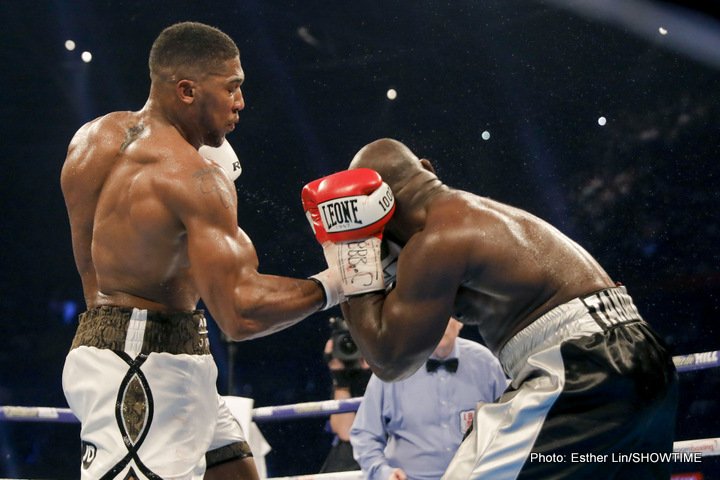 Deontay Wilder and Luis Ortiz kicked off the month of March in thrilling style, their March 3 war being crammed full of drama, big punches, heavy knockdowns and a dash of controversy (Ortiz is claiming he deserves a rematch as a result of the "extra recovery time" Wilder was afforded at the start of the eighth-round; this after the defending WBC champ had taken serious punishment in the final minute or so of the seventh-round).
Wilder-Ortiz always was going to be bombs away, and fans got what they wanted. What we want now from the heavyweights – aside from the big one: a Wilder-Joshua unification showdown – is for the action to keep coming. The next big slice of world heavyweight action comes on March 31, when AJ and Joseph Parker clash in a three-belt unifier. Fans might not be quite so sure how this one, set for Cardiff, will unfold.
Joshua, the WBA/IBF champ, is a proven banger, Parker, the WBO champ, is not. Parker and his team have hinted more towards a tough, gruelling battle of attrition type affair, a 'who wants it more' battle that could rage on for all 12 rounds. Not too many people were expecting Wilder-Ortiz to see the final bell, but plenty of good judges feel the official judges will be needed on the 31st.
Something else may be needed, too: an exercising of the rematch clause Joshua has in place. Speaking with The Rock radio show, the unbeaten New Zealand warrior laid out his plans for 2018:
"I think my plans for the year are I fight Joshua and I beat him and then a rematch, so that's my plans for the year," Parker said.
If we do see the upset (and AJ is the betting favourite to add the WBO belt to his collection and improve to 21-0 at the end of the month) it will hold up a Wilder-Joshua showdown, but Parker is determined to emerge as THE MAN himself. And if we see a great action fight, and an upset, on March 31, chances are we won't mind seeing a Parker-Joshua II towards the end of the year.
Who knows, if Joshua and Parker end up at 1-1, we might even see the trilogy. Wilder will be left calling for his shot at unifying the belts for quite some time if this is how things transpire, but the eventual winner of the Parker-Joshua rivalry could then go on to meet the WBC champ next year.
"Don't sleep on Parker," a number of respected boxing judges have been saying. Joshua has surely listened.