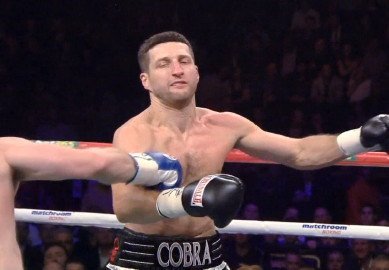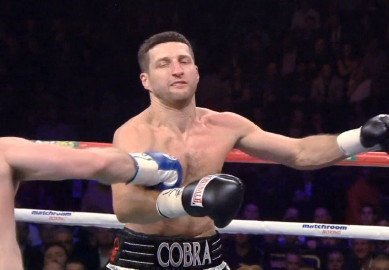 Only a few years ago it took an ardent boxing fan to recall the name Carl Froch. A stunning comeback victory against Jermaine Taylor in 2009, coupled with a Gatti-esque performance against Mikkel Kessler and a dominating victory over Arthur Abraham affirmed Froch as the fighter with the sports toughest schedule from 2009-11. Facing 6 former world champions in a 3 year period burnished Froch's reputation as a fighter not only willing to test himself against the best, but to define his reputation by doing so. However, it was his blistering demolition of the then unbeaten Lucian Bute in May of 2012 that finally made Froch a household name in his native Britain.
Those who have long followed Froch and those who have since made up for lost time and caught up on his bellicose exploits have become enamourned with a fighter who's heart unceasingly triumphs his lack of speed and skill. Fighters like Froch, who to quote the often used boxing caption leave it all in the ring, merit a special admiration from fight fans. A boxer will always be praised, but a fighter will be adulated. Carl Froch is unmistakably a fighter.
Froch's burgeoining fan base, fortified by his conquering of Mikkel Kessler in their May rematch, were unamused by George Grove's apparently absurd claims of being able to upset the unified WBA and IBF champion. Not only was Grove's statement of intent dismissed by most fans, many believed the 25-year old Londoner to be too wet behind the ears to deserve a title shot, let alone one against the battle tested Froch, who had indicated his desire to rematch Andre Ward following his avenging of the Kessler defeat.
Froch was seemingly of the same thinking, pointing out Grove's lack of world class opposition and weak chin as basis for what he stated would be a routine victory. The champion's indifference to the challenger went as far as suggesting Groves would meagerly hide behind his jab and attempt to hug Froch, implying that Groves was not only unable to box with him, but would be unwilling to do so; presumably daunted by the task that stood before him. However, the George Groves that emerged through the curtains on fight night appeared anything but daunted, displaying a self assurance that if pre-fight demander could predict results, would have predicated a victory for the challenger.
What happened between rounds 1 and 9 of Froch-Groves are now the stuff of boxing legend. Groves not only overcame the expectations of Froch and the mass majority of the onlooking audience, but he did so convincingly; dropping and outpointing Froch before being improbably stopped – for reasons we can only speculate over. What requires no hypothesis however is that the 'warrior' Froch, was outboxed by the 'chinny' Groves.
Froch, who walked into Manchester the beloved hero, left as the pantomime villain to a chorus of boos, while Groves received the adulation of the crowd. As Muhammad Ali displayed over his storied career, even the most dispised of braggarts can become the most beloved if they back up their bluster – and Groves more than backed it up. Before the fight Froch had all but assumed Ricky Hatton's regrettably retired mantle of the nation's most popular fighter. The injustice of the stoppage and Froch's indifference to a rematch however now stand to hurt the public reputation of a fighter who has relished his position as Britain's fighting pride.
Froch's post fight comments, seemingly to appease the baying crowd, hinted at an interest in a rematch with Groves; subsequently however Froch has attempted to distance himself from Groves, laughably claiming the Londoner is not able to cut it 'at world level'. The absurdity of Froch's claims in light of Groves' dominant performance can only serve to discredit the image of fighter whose actions have always spoke louder than his words.
The notion that there are other fights out there for Froch, while true, are farcical if Froch desires to keep hold of his this far well earned notoriety. Nobody wants to see Froch matched against the far superior Ward, who even if he agreed, would doubtlessly refuse to a fight in the UK; leaving Froch to fight in the US where Ward is far from a draw. The financial return for a bout Froch himself isn't even sure he can win, would be nothing compared to a rematch with Groves. 160lb heavy hitter Gennady Golovkin is an option, but again neither are mainstream names in the US and fight fans in the UK are clear the only fight they wish to see is a rematch with Groves. The only potential money spinner Froch has outside of Groves is Julio Cesar Chavez Jr., whose name alone still carries a hefty reward with it, but a second fight with Groves is still clearly the most lucrative option.
Whatever decision Froch and his promoter Eddie Hearn settle upon, avoiding Groves would almost certainly sully his reputation in the eyes of many fight fans, particularly the passionate British boxing public. Carl Froch's much discussed legacy requires that he fight Groves a second time. Should he choose to evade and continue to demean a fighter who the boxing world saw as the better fighter on the night, George Groves will happily assume his mantle as Britain's peoples champion
@mickaelbarbes