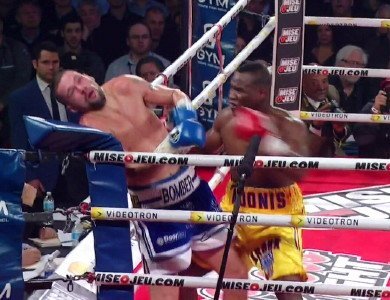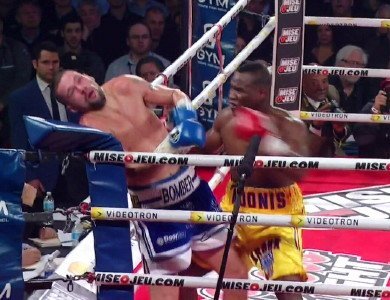 There was no bump in the road last night for a possible light heavyweight showdown between Sergey Kovalev and Adonis Stevenson. In two fights with a very showcase feel both belt holders took care of business with definitive knockout wins. Kovalev's came very early and was very destructive. Ismayl Sillakh, a Ukrainian challenger now fighting out of Simi Valley, California was out cold from an overhand right that had him out on his feet.
Two jabs assisted his fall as the referee Marlon Wright was waving it over immediately. Sillakh fell under the bottom rope and the doctors struggled to get him back under the ropes so they could examine his condition. People sitting ringside stuck out hands to prevent him from crawling off the ring and onto the floor. Kovalev had shattered the once promising contender with two solid overhand rights.
Sillakh had been on a four fight winning streak with three stoppages en route to his first world title fight. However, it was his loss to Dennis Grachev by eighth round knockout that he is most remembered for. In that fight he was winning the whole way using his superior boxing skills to pile on a big lead. His movement and his jab kept Grachev from having any real success. Then disaster struck, he got comfortable in there and failed to finish his opponent and Grachev stormed back with power punches to pick up a huge upset. Going into the fight last night Sillakh had not really beaten anyone worthy of being given a world title shot but he had the chance to prove difficult stylistically for Kovalev.
The First round went very well for the challenger as he used the ring to stay out of danger and tried to extend the fight past the early goings. Sillakh got through the first round without any shaky moments and even shipped in a solid one-two combination to the head of Kovalev. In a moment reminiscent of the exhibition in Rocky IV between Apollo Creed and Ivan Drago, Sillakh who had been moving and jabbing well finally tasted the power when Kovalev warmed up and he just could not survive. The first knockdown was devastating and even though Sillakh reached his feet at the count of three he looked like a deer in the headlights when Kovalev stormed out for the finish. Sergey Kovalev continues to make a name for himself for American audiences having scored four stoppages in a row on HBO and NBC Sports Network. His best scalps would be Gabriel Campillo and Nathan Cleverly but at the rate he is going he will most certainly be adding more to his collection.
Adonis Stevenson also kept the collision alive by taking out Tony Bellew in the sixth round. Tony Bellew in the run up to the fight was very confident going in and appeared to view the fight from a realistic stand point. He wanted to use his size and movement to avoid the left hand but knew he was going to have to survive a few to take Stevenson down the stretch. Bellew made matters more interesting at the weigh in when he used his head to drive Stevenson back during the stare down. Bellew came out for round one on the move and looking to set up Stevenson for counters. Stevenson cashed in against Chad Dawson on a stunning left hand counter and laid back and punished Cloud with counters. Bellew attempted to make him lead the dance and see if he could get Stevenson to put himself in harms way. In the first two rounds Bellew was able to reduce Stevenson's output and connects and was able to sneak in a few right hands of his own but it became clear that he was not going to win rounds like this. Bellew's tactics were reminiscent of Martin Murray's tactics in the early goings of his middleweight challenge against Sergio Martinez. He had an athletic low handed southpaw with knockout power in front of him and he slowed the fight down early and made it tactical. Murray was able to come on late and score a knockdown and nearly lift the title off of Martinez. Could Bellew do the same?
After two rounds it appeared that Bellew was able to get his range and reduce the power on Stevenson's punches by just being at the end of the shot and was getting hit by punches that had a little taken off them. In the third round Stevenson finally got the range he needed to inflict real damage with his left. Bellew started successfully by landing a hard right hand down the center that drew blood from the nose of Stevenson. This emboldened the champion and resulted in Bellew being driven to the corner and then the ropes where he was in range of the left hand at its full power. Stevenson connected on several very hard punches and won the round in big fashion. Round four was another see saw round as momentum swung in Bellew's favor on a right hand only to be quickly reversed. Stevenson again was able to get Bellew to the corner and was able to get in with several hard connects but at the end of the combination Bellew snuck in a right hand down the middle. Sensing he had his man hurt Bellew ran after a back peddling Stevenson and put in a solid right hand and a left hook that put Stevenson on the canvas.
This great moment of offense for Bellew was rightly ruled a slip as the feet had come together but it was still a sign of momentum. Stevenson was hit in the back of the head by the left hook and it did appear that he was a little shaken by the punch. Bellew did not follow up and went back to his defensive strategy. Stevenson was only briefly shaken and if Bellew had sold out and attacked it did not appear likely that he would have stopped him and that he would have put himself in harms way. So he went back on the defensive where to his credit he had put in two solid right hands and looked to do it again. Stevenson went back on the attack and was only caught a few more times but not by anything consequential. The fifth round was a little more of the same as Stevenson stalked Bellew around the ring. Stevenson was walking him down with his hands down trying to entice a counter. He was not able to find a way through that defensive posture and he struggled to get his body attack or his right hand into the fight.
In the sixth round Bellew was in the corner and came forward only to be caught and sent down by a left hand. Bellew got up and did his best to convince the referee that he was alright and the fight carried on. Stevenson was locked in and a left hand down the middle made his legs wobble as his body seemed to rock forwards then backwards as he stumbled into the corner. A hard left knocked his head back and another left came in as the referee was getting ready to call it off. Bellew slumped on his stool in disappointment after the fight and Stevenson celebrated his victory. So what's next, do we see Stevenson and Kovalev lock horns or do we get to see Bernard Hopkins get a try at one of these two punchers. Does a fighter like Julio Caesar Chavez Junior get a fight with one of these two men being that he is now a light heavyweight on HBO. Even the prospects of Carl Froch who does have unfinished business with George Groves appears to be an interesting match up if he moves up. Andre Ward moving up for either would also be something to get excited about.
At this very moment if a pick had to be made on the spot I would have to favor Sergey Kovalev over Adonis Stevenson. Two bangers who would be quite capable of delivering shots on each other comes down to the one who can either take it better or avoid it better. Stevenson can avoid the fray with his quick feet and knack for fighting on the back foot but Kovalev would appear less vulnerable. Kovalav showed the ability to nail a moving target in Sillakh but Stevenson showed the ability to dominate a pressure fighter like Tavoris Cloud. There are several possibilities to explore but one fight Stevenson should probably avoid would be that of Bernard Hopkins. A fight that he really should take would be that of Carl Froch. Froch would look great on his resume and after Groves sent him to the deck and connected repeatedly the time looks right.
Bernard Hopkins looks like a rough stylistic match up for Stevenson, he is for just about everyone so it's no insult. Hopkins is on the verge of being old overnight as crazy as that might sound for a guy who is nearing fifty years old. However, at this juncture he is still able to operate and rely on a style that takes away that of his opponents. Hopkins would definitely do his best to eliminate the left hand from the equation and force Stevenson to beat him with his right hand. Stevenson struggled to get his right hand involved against Bellew and he will need both hands landing to beat Hopkins and Kovalev. Hopefully Kovalev and Stevenson are maneuvered to fight before March of next year as neither man absorbed much in their respective fights last night.