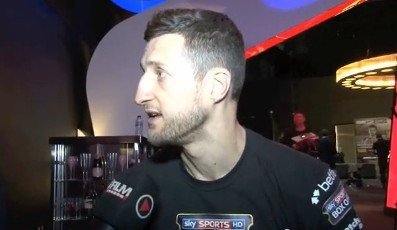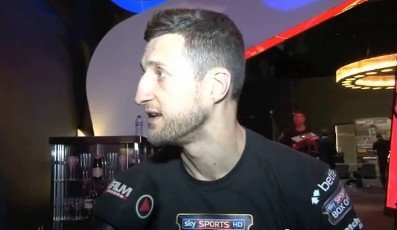 The IBF has ordered IBF/WBA super middleweight champion Carl Froch to defend his IBF title against his mandatory challenger George Groves next, and Froch is debating whether that's the best direction to take with his career or not. He's in a position where he can get bigger fights, but he also doesn't like the idea of losing his IBF title if he chooses not to face Groves next.
That's what would happen. Froch would either get stripped of his title by the International Boxing Federation sanctioning body or he's have to vacate if he decided he want to face Groves.
Froch said to thesun "If I have to defend against Groves I will because there is no way I'll be giving my titles up unless it makes sense to go down another route. I'll sit down and talk things through with my promoter Eddie Hearn, but if I'm given an October date to fight Groves, October it is."
It seems as if Froch is saying two different things. He's saying he won't give up the titles, yet then in the next breath saying he will if it makes sense. What's the point of saying you won't give up the title if you're also saying you will give them up under the right circumstances. It makes no sense to me.
I think Hearn is going to have Froch fight someone else instead of Groves, who Hearn also promotes. Hearn wants Groves to win a title strap first at 168 before he matches him up against Froch, and right now the fight would be premature. Hearn is marinating the Froch-Groves and he wants it to be a unification bout. For that to happen, Groves has to beat either WBO super middleweight champion Robert Stieglitz or WBC champion Sakio Bika.
I think it's more likely Groves will get a shot against Stieglitz before he'll get a bout against Bika. If Groves wins that fight, then a Froch-Groves match-up will likely take place. But in the meantime, Froch will probably have to give up his IBF 168 lb. strap unless Hearn can persuade the IBF to let Froch bypass the defense again.
Froch already maneuvered around Adonis Stevenson when he was the IBF mandatory recently in order for Froch to face Mikkel Kessler for a second time. I don't think the IBF is going to let Froch do this indefinitely for the remainder of his career because it makes it kind of a joke when a champion isn't facing his mandatory challengers in a timely fashion.