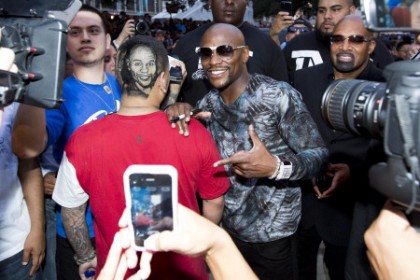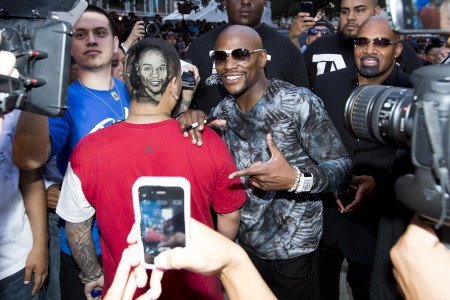 (Photo credit: Esther Lin/Showtime) By Marc Livitz: There are numerous individuals in this world who seem to have nothing better to do than to willingly succumb to society's temptations and the desire to have the best of everything. The clearer and clearer an obvious illusion becomes, the more some are clamoring to obtain whatever is necessary to feed their materialistic fetish.
There are of course others who are just as quick to call a trough a trough. Many of us perhaps have seen the financial figures for the most successful movies of all time and how their respective totals look once they are adjusted for inflation.
When Floyd Mayweather, Jr. met Oscar De La Hoya in May of 2007, live gate records were shattered….which was the saving grace of a fight which produced about enough excitement to rouse a funeral.
As we all are now well aware, the aforementioned Mayweather will face Saul "Canelo" Alvarez in Las Vegas on September 14. The two fighters concluded a multi city, two country press tour today in Los Angeles, California. There has been however a stark contrast between the attitudes of the two combatants since the fight was initially announced just a few weeks ago.
"I picked Canelo because he deserves the chance and is best opponent possible for me at this time", said Mayweather in late June. Put that statement next to what Floyd confidently stated yesterday in the shadow of the historic Alamo in San Antonio, Texas.
"September 14 is just another walk in the park. We put Canelo on my undercards and we let him get to the pinnacle. Guess what we're going to do? We're going to knock him right off", said the undefeated champion.
This sounds more like an excuse for a late night make up rendezvous than an honest push to sell a mega fight. After the totals were disappointingly counted for Floyd's May encounter with Robert "The Ghost" Guerrero, who could possibly blame him for wanting to get right back into the ring in order to say, "I'm sorry" in his own fashion?
Canelo Alvarez doesn't say much before a fight. He at times saves it for the ring and whatever takes place afterwards. Shortly after his victory over Austin "No Doubt" Trout last April, Alvarez (42-0-1, 30 KOs) had not quite cleared the sweat resulting from twelve rounds of constant slugging from his brow when his future intentions were made quite clear. The fresh faced, red headed and unbeaten boxer from Guadalajara, Mexico, was going for the pugilistic gold and wanted a crack at the sport's reigning king; the one and only Floyd "Money" Mayweather, Jr. (44-0, 26 KOs).
No harm in this. We're all in for a collective shaft, though.
Yes, the upcoming fight itself on Mexican Independence Day weekend sold out in less than one full revolution of planet earth and records were indeed broken. This isn't an eleventh hour appeal by any stretch of the imagination when the cheapest ticket (at face value) is $350 compared to the $200 starting price for his last two contests (versus Guerrero and Miguel Cotto, respectively). On top of that….a show of hands for fight fans who just can't wait to watch the fight in Las Vegas on a closed circuit basis for $100 a pop.
A few months north of a year have passed since Floyd, Jr. topped Miguel Cotto. Tickets and the chance to take part in a mega fight weekend have certainly become bedmates with pugilistic helium. Time is precious, but truth is more precious than time. This is Wall Street, boys and girls. It's a surefire undefeated legend taking on a nation's fighting hopes. Take a quick look at Canelo's record and compare it to Floyd's.
Just as Mayweather commented yesterday, "Are you betting on youth or are you betting on experience? I only ask you this. Go check the records. Tell me ten champions that Canelo has beaten. Just ten. When you get to twenty or thirty, then you're talking about me."
Oscar De La Hoya was a great fighter but he was also the first to admit that his looks made him even more of a mega star. Likewise, if Canelo Alvarez was from Luxembourg or had more of a radio face, then maybe his hopscotch to the highest point of boxing may have been a bit more tedious. Mayweather clings to his undefeated record and we are often left to wonder if he'd seek to continue to honor his six fight, two hundred million dollar deal with Showtime should he lose a bout before he can equal Rocky Marciano's record of forty nine fights unbeaten. The Brockton Blockbuster also had forty three knockouts…..the same amount of opponents Floyd has faced.
Yes, forty four have tried but Mayweather did of course fight Jose Luis Castillo twice. He also fought Jesus Chavez twice, but that was a case of two cats with the same name. Either way, we'll all likely gather round the television come "Catorce de Septiembre".
Just keep the idea of safety in numbers, as in have your friends pitch in or go to a friend's house.
If the least costly seat at the MGM Grand Garden Arena is $350 and $100 will get you a mongo-sized screen inside a Vegas ballroom, then what's a safe bet for the pay per view price for American television? Seventy five or eighty dollars?
Oh well.
After all, the economy is recovering….for those who always had the financial wherewithal to survive. This is a book where we turn to the final pages first. Mayweather is likely to starch Canelo over twelve one-sided rounds.
What's the foreseeable fallout for Alvarez's first loss?
Hopefully…nothing. The kid's only 22 years old.
The weekend will be a smashing success either way. Top Rank Promotions was wise to move its bout featuring Juan Manuel Marquez and Timothy Bradley (originally scheduled for September 14) to October 12.
That's not quite Mexican Independence Day, but it is "Dia de la Raza".