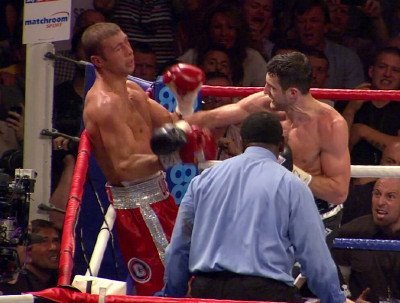 By Michael Collins: IBF super middleweight champion Carl Froch (29-2, 21 KO's) will be making an important announcement this Monday to reveal who his next opponent will be in November at home in Nottingham, UK. Froch and his promoter Eddie Hearn of Matchroom Sport has done a good job of keeping it secret about who the next guy will be for him. We've seen names like Kelly Pavlik and Thomas Oosthuizen mentioned and then ruled out unfortunately.
Froch deserves an easy fight at this point because he's faced nothing but tough opposition for the last three years straight. Although I'm sure he prefers to face another quality opponent, it may not be possible for his November fight without his promoter giving the opponent a lot of money. The good fighters aren't going to be got on the cheap unfortunately especially when they know how hard it is to beat Froch when he's fighting in front of his home crowd in Nottingham.
Hearn said to Sky Sports News "The Bute fight night will go down in history as one of the greatest nights in British boxing history. Carl is chomping at the bit to get back into the ring and feel the roar of the Nottingham fans that he loves so much."
Froch defeated Lucian Bute with ease last May, stopping him in the 5th round in what turned out to be a slaughter in Nottingham. Going into the fight many boxing fans felt that Bute's power and boxing skills would be enough for him to beat the slower, slightly weaker Froch. However, Bute couldn't stand up to Froch's power and was immediately having problems in the 1st round when Froch was able to steadily back him up with his hard power shots.
Bute made things worse by trying to fight off the ropes instead of the center ring and this eventually led to Froch bludgeoning him into submission.