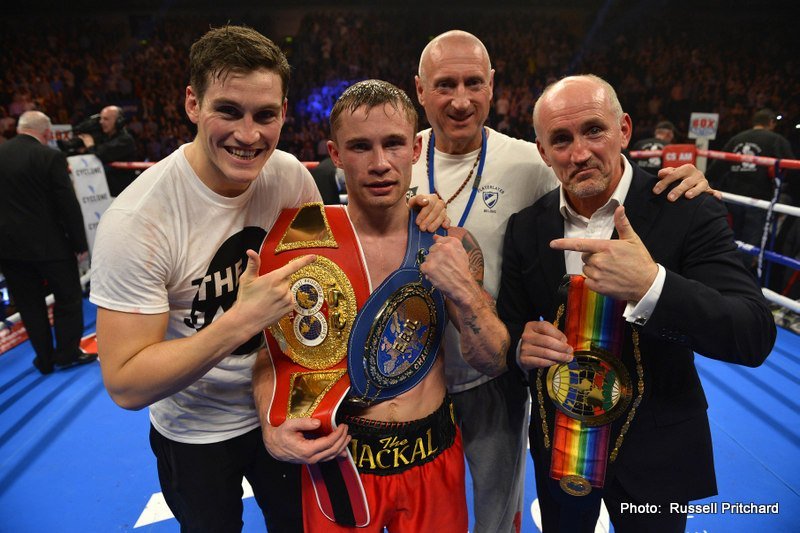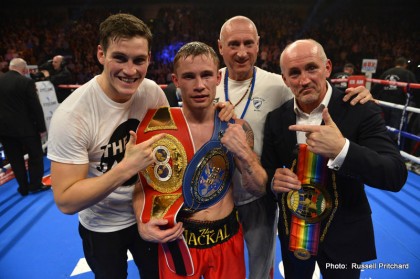 Very interesting news that came out of the UK last night following this tweet from IBF 122lb champion Carl Frampton.
"My team and I have teamed up with the most powerful man in boxing, Al Haymon."
Immediately, all the nay-sayers on social media rejoicing that the Tiger's Bay man had rid himself of former featherweight legend Barry McGuigan – who they believe the responsible party for negotiations with Eddie Hearn and Scott Quigg turning sour – were silenced, when it was announced McGuigan was staying on as manager.
This really should not have come as too much of a surprise as he has been involved in Frampton's career from day one and was once cited as the reason Carl left Eddie Hearn to join Frank Warren 2 years ago.
His son, Shane, is also the champion's trainer. He is almost a father figure to Frampton and I very much doubt he would ever have rid himself of Barry.
Elaborating on the hook up, Frampton said;
"I am very happy to have signed with Al Haymon. Al Haymon has a formidable reputation in boxing and has been the catalyst to securing the biggest fights in recent years."
"This is an exciting stage of my career after winning my world title and my team and I know that this relationship with (him) will take my career to the next level. I'm looking forward to it."
He later followed up with a simple tweet that read
'Power move'
This hook up presents a couple of attractive possibilities, not just for Frampton but boxing generally.
Is it possible Haymon, and his revolutionary PBC format could end up on terrestrial TV in the UK – on ITV who screened Frampton's last fight in February against American, Chris Avalos?
PBC on ITV has a bit of a ring to it doesn't it?
It's also great news for Frampton in terms of any potential Scott Quigg fight – meaning that Haymon's deep pockets can force the fight to be more on his terms – broadcaster, etc – and should that fail, massive Stateside opportunities exist, including a potential Leo Santa Cruz unification fight – imagine that exposure for Frampton.
It's a great opportunity for arguably our best P4P, excluding Carl Froch of course – to announce himself on the world stage. If you want to be big in boxing – you need to fight in America.
Trainer Shane McGuigan summed it up in his own tweet, that read;
"Excited for next chapter of @RealCFrampton's career…#Global"
Fantastic news indeed.
Twitter @Undilutedpoison