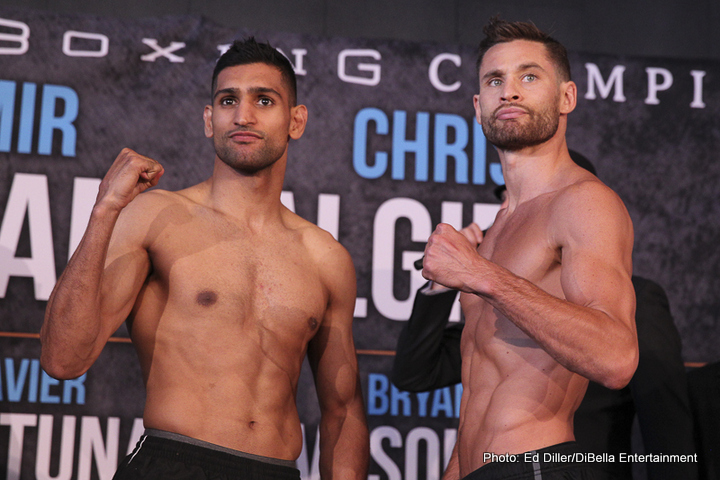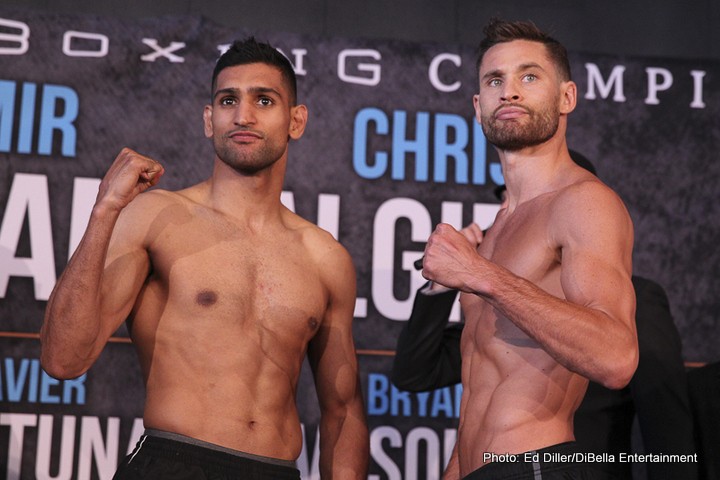 A good strategy is best judged by the long-term results it delivers in any form of business, boxing is no different. A solid plan can be the difference between the maximization of a fighters talents or future theoretical discussions of what might have been.
So, when Virgil Hunter spoke at Tuesday's final press conference ahead of tonight's clash between his improving charge Amir Khan, 30-3 (19KO's), and New York native Chris Algieri, 20-1 (8KO's), we would do well to listen.
"Strategy, always strategy. Success in life comes from strategy." Proclaimed Hunter.
What Hunter was referring to was the public outcry post-Mayweather and Pacquaio for value for money. A notion – inspired by some arms of the media – that to be considered great or 'fan friendly' there must be multiple highlight reel knockdowns – you know, drama.
That gone are the days that a contest between two of the sports finest performers locked in a cerebral battle for supremacy can be enjoyed and ultimately lauded. Instead, we fawn over Saul 'Canelo' Alvarez's 3-round one-sided beating of James Kirkland – the epitome of a man with no strategy.
Although incredibly entertaining and appealing to our love for the raw brutality boxing can display, it is not boxing at it's finest and it never will be.
It's this incessant call for action that has proved to be the scourge of Amir Khan's career to date. Successful though he has been, his inability to resist the urge to engage has seen him touch down on multiple occasions, be knocked out brutally twice and narrowly escape a third against Marcos Maidana.
Entertainment is the word you could most closely associate with Amir Khan, but could he be considered a great fighter? Has he maximised his potential? – I think the honest answer to those questions is 'No'.
However, with the guidance of Virgil Hunter, that could be about to change. In fact the wheels are already well in motion.
It has been a long and difficult road for Khan since vacating the famed Wild Card gym in 2012 in favour of Hunters Kings Boxing gym in Oakland. He initially found it difficult to shake off the mistakes that cost him dearly earlier in his career against Breidis Prescott and Danny Garcia – the men who delivered the most crushing of his defeats.
In his first outing under Hunter tutelage he laboured to a 10th round retirement victory over an out of his depth Carlos Molina and climbed off the canvas once more to win a close 12-round decision over former lightweight champion Julio Diaz in Sheffield, England.
No one likes change and like a golfer attempting to revamp his swing it was never going to be an easy task.
A year out of the ring followed and what returned was a completely different animal. A man committed to Hunter's mantra of controlled defensively savvy boxing, aimed at utilising his considerable speed and athletic advantages that had been neglected before.
The results spoke for themselves; in arguably his career best displays Khan outclassed former World welterweight champions Luis Collazo and Devon Alexander winning 12-round lopsided unanimous decisions. Khan dictated the outcome of the fights, in favour of reacting to how they transpired.
Khan and his team have received criticism for similar control of his career, scheduling a bout with Algieri rather than an all-British contest with current IBF World welterweight champion Kell Brook. Even having to contest with calls of cowardice from men who have never set foot in a boxing ring with the intention of fighting.
The last thing anyone can label Amir Khan is 'petrified' of any fighter in a boxing ring. His commitment to fight the best fighters in his division and meet them on their terms cannot be denied. This is part of his box office appeal and also his biggest problem.
Khan will fight Brook when the time is right, I have no doubt about that and it will be an enormous fight – a real 50/50, but right now its not part of the strategy that has been laid out to maximise his potential, both financially and professionally.
I expect to see another example of his vast improvement tonight, over a fighter in Algieri who is simply not in his league. Khan can make a fight easy, or he can make a fight hard. The irony is that it is the latter that will see him praised in the short term and the former that will see him remembered long term.
In Virgil Hunter the British fighter has finally found a man who can convince him that planning for the long term is always the best strategy.