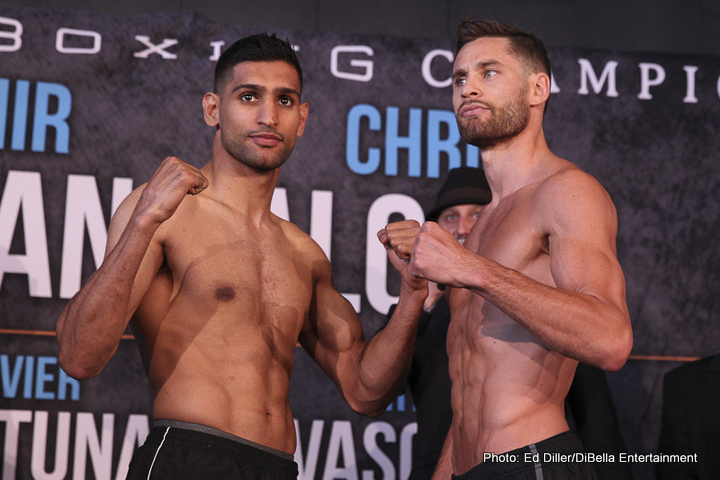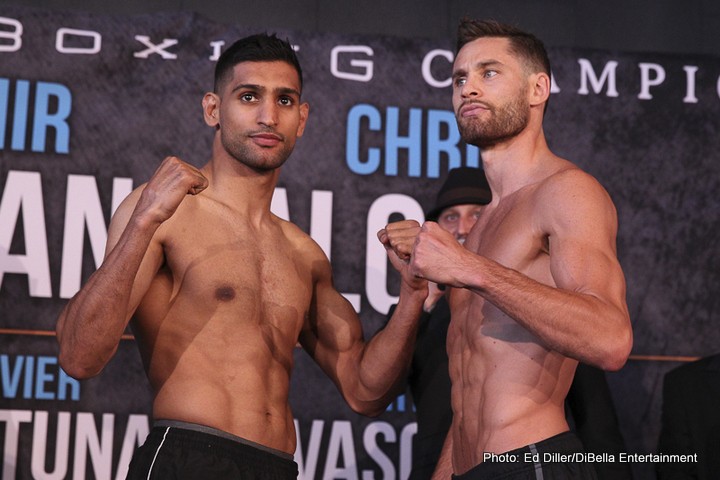 Amir Khan and Chris Algieri meet in a game of high-speed chess not checkers in front of a Brooklyn based crowd at the Barclays Center on Spike this Friday night. Khan's been busy the last few years lining up his ducks in a row in order to land a major fight. Can Algieri pull another rabbit out of his hat the way he did versus Ruslan Provodnikov about a year ago. The co-feature pits the explosive Javier Fortuna against a steady-rising Bryan Vazquez in a matchup that should start the broadcast out with a bang.
Nearly 3 years ago Amir Khan was ready to face Lamont Peterson in a rematch from a close bout. As fate would have it Lamont Peterson failed a random drug test after not informing the agency he'd implanted a testosterone pill in his hip the previous winter before their first meeting. In walks Danny Garcia for a July showdown with the highest of high stakes awaiting Amir in victory in the form of Manny Pacquiao and Floyd Mayweather.
The opening 2 1/2 frames saw Amir dominating Danny Garcia with blistering combinations. Khan seemingly couldn't miss with either hand but lucky for Danny Garcia, always known for having a good set of whiskers, he was able to withstand a lot of punishment. By the third round Garcia began to deliver his own brand of punishment with several huge shots that shook and rattled Khan. Khan, stumbled around the ring running for dear life at times, showed major heart but ultimately was stopped on his feet in the corner.
Amir's dreams of a major fight were crushed forcing him to rebuild his career with fights against Carlos Molina, Julio Diaz, Luis Collazo, Devon Alexander, and now Chris Algieri. A key part to the rebuilding process led him to connect with Virgil Hunter. Now based in San Francisco under the tutelage of Hunter Khan has turned his focus to the mental part rather than the physical aspect of boxing.
In his first two fights with Hunter, Amir failed to show any significant improvements. In his last two fights however, Kahn showed a definite change in strategy against the likes of Luis Collazo and Devon Alexander. Against Collazo his clinch-game was on display as an improvement added to the tool belt. In his fights with Peterson, Garcia and Marcos Maidana, Khan struggled to hold his opponent when hurt or after landing combinations on inside which left him wide-open for a counter attack. The man who goes by the ring name of "King Kong" had his best performance overall tactically against Devon Alexander.
Hard-core boxing fans got to know Chris Algieri on Espn2's Friday Night Fights as he worked his way up the junior welterweight ladder until getting a shot at Ruslan Provodnikov. His fight with the Emanuel Taylor showed the variety of skills and level of activity Chris brings to the table at the championship level.
Chris looked every bit the part of an 8 to 1 underdog against Provodnikov early, touching the campus not once but twice in the first round. Chris's right eye swelled horribly making matters even worse. Once able to recoup, Algieri employed movement and activity all while using a stiff jab to contain Ruslan. Jab after neck-snapping jab along with a straight right hand from time to time enabled Chris to pull off a split-decision victory.
Against Manny Pacquiao, Algieri was simply overmatched and overpowered, being knocked down five times in route to a one-sided white-washing in Macau, China. R Kelly famously sang about being trapped in the closet. The Long Islanders former trainer kept him trapped in a cage for far too long against Pacquiao and now rightfully so he's gone. After the Pacquiao fight Algieri was forced to pick up the pieces of what could still be a blossoming career enlisting the services of veteran standout trainer John David Jackson.
Both of these guys don't have that one-punch knockout power but they are very active considering the amount of movement they use, especially Algieri. This style matchup is obviously not for everyone in the boxing world. Once we get through the early motions as these fighters feel each other out we could get an entertaining display of skills. Similar to the skills-fest that was Degale vs. Dirrell but with more activity.
Once again Khan won't have to worry about power and hasn't faced anyone with it outside of Julio Diaz since the Danny Garcia nightmare of July 2012. If you look back at Amir Khan's 10-plus years in boxing, a matchup that calls for him to outbox a fighter in the middle of the ring has clearly favored him. His hand speed is only matched (maybe) by Floyd Mayweather and when he throws in combinations, behind that jab than exits the pocket safely to avoid oncoming punches makes him a handful for anybody in the world at the welterweight division.
We know Algieri has skills to control the ring but we've only seen him do it against a forward thinking fighters like Provodnikov and Taylor. A more patient and calculating Khan could spell trouble for Chris if this fight takes place in the middle of the ring. Both guys have straight-quick jabs and Algieri will presumably have to be first as he feels his way to the inside. We will probably see subtle lateral movement from both with the real question being can Algieri be the one who not only leads but can he do it effectively. If not Chris might be a half-second behind Khan all night allowing Amir to dictate the terms.
I look for this fight to be entertaining with some give and take. Look for Chris to time Amir coming in or with a counter-attack as Khan is pulling out. When it's all said and done Amir Khan will stamp his ticket which automatically advances him to the front of the opponent line for Floyd "Money" Mayweather. My official prediction is Amir Khan by Unanimous Decision
P.S. Don't miss what could be an explosive co-feature between Javier Fortuna and Bryan Vazquez. Fortuna is both powerful and vulnerable which hopefully blends well with the rising Bryan Vazquez, who's been on a tear of late having stopped Sergio Thompson in his last outing.
Side Note Streamer: Saturday's Matchroom/SkySports Rule Britannia card is full of interesting fights including Kevin Mitchell vs. Jorge Linares, Lee Selby vs. Evgeny Gradovich, Anthony Joshua vs. Kevin Johnson, and topped by Kell Brook vs. Frankie Gavin. My Predictions is Kell walks thru Gavin relativley easy and Lee Selby sneaks-out a disputed points-victory against a game Gradovich. Anthony Joshua gets some much needed rounds (and a TKO) and Linares claims victory by UD.
Written by Chris Carlson Owner & Host of Rope-A-Dope-Radio blogtalkradio.com/ropeadoperadio
Follow on Twitter @RopeADopeRadio