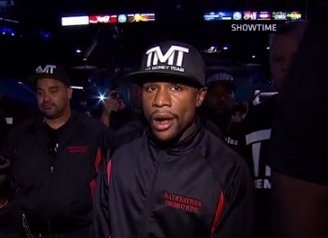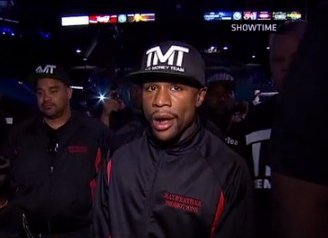 Floyd Mayweather Jr. and his lavish lifestyle never cease to impress people all over the world. Of course mostly known for his absolutely unparalleled boxing abilities and his media targeted cocky entertaining attitude, Floyd is also well known for his absolute love for money and spending it mercilessly on various luxuries and forms of front page entertainment.
EliteDaily.com has an excellent picture dense article talking about Floyd's purchasing power and the way he likes to spend his dollars. Anything from private jets to considering hiring someone to keep track of his dozens of Louis Vuitton bags, Mayweather Jr. keeps the readers wanting to hear more.
Did you know that despite the fact that Floyd doesn't partake in alcoholic beverages, he likes to tuck in and watch some TV with a few Cristal bottles sitting next to him. Crazy? How about the fact that Burberry sends an entire team to Floyd's house so that he could shop for the limited edition collection in the convenience of his own home?
Aside being the top paid athlete in the world, Mayweather Jr. is also great at making money placing bets on various sports. Placing bets, growing his own promotional team, and even being involved in the music industry, Mayweather Jr. is by far the most interesting character in the sport of boxing in recent history.
Of course Manny Pacquiao is a very second close, with living his own mind-blowing lifestyle of yachts and helicopters in his own country of the Philippines. Of course he is a little less flamboyant than Floyd, thus his financial antics make less new in the U.S. than Floyd's.
No wonder The Money Team slogan represents Team Mayweather flawlessly.
More @ http://cgboxing.blogspot.com/
https://www.facebook.com/VitaliFightPress