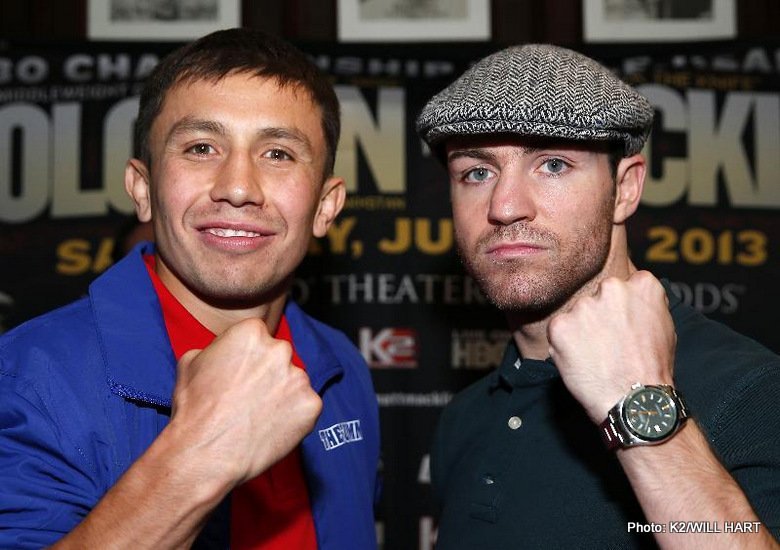 This Saturday night Gennady Golovkin will defend his WBA and IBO middleweight titles against his toughest opponent to date when he faces Matthew Macklin at the MGM Grand, Mashantucket.
The Kazakhstan native, known simply as 'GGG', likes to keep his fights as short as his nickname. He has gained a reputation as one of the most devastating punchers of recent times, boasting a KO ratio of 88.46%. The 31 year old champion has racked up 26 consecutive wins however he has never ventured past the 10th round.
Macklin is the first top 20 ranked middleweight to challenge 'GGG' and as such poses his stiffest test to date. 'Mack the Knife' is no stranger to big fights having shared a ring with both Felix Sturm and Sergio Martinez. Buddy McGirt's charge is determined to succeed in his 3rd world title attempt.
This bout is guaranteed to get the crowd on their feet, while either man is at serious risk of getting knocked off his. The question hanging over Golovkin is whether he can continue his impressive winning streak against the top men at 160lbs.
Although he is yet to take on a credible force in the middleweight ranks, Gennady's celebrated amateur exploits have allowed us to believe that the somewhat premature hype may be duly justified. Saturday night should provide boxing fans with a clear indication of Golovkin's standing within the middleweight division.
In contrast Macklin has had tough fights throughout his career. His domestic slugfest with Jamie Moore was one of the most entertaining fights to unfold on an English canvas. Anyone familiar with Matthew's fights knows that you consider him an underdog at your own peril.
The question hanging over Macklin is whether his collection of hard bouts will work for him or against him. Matthew has the power to hurt the champion however he may need to establish this fact in the early rounds, similar to his bouts with Alcine and Asikainen.
Another tactical ploy may be to use the jab to set up hard right hands from the outside and avoid close quarter trading with the powerful 'GGG'. The championship rounds are relatively alien to Golovkin and Macklin may look to rally late against a tiring opponent. However Matthew himself has fallen victim to the late rounds, notably against Martinez.
Most fans are expecting the colossal power of the champion to wear down and ultimately knockout Macklin however others are of the opinion that this will be a tough fight for Golovkin as he steps up in class. Matthew firmly believes he can beat Gennady at his own game.
Twitter: @boxingroundup