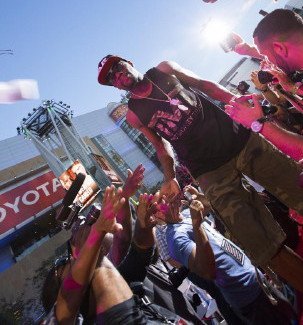 (Photo credit: Esther Lin/Showtime) By Sean Carpenter: It's been a while since I have written an article but felt pushed to do so. A lot of people on forums seem to really tear apart any boxer that gets into the ring no one is ever good enough there is always something or some one they have not faced.
In Floyd Mayweather Jr. (44-0, 26 KO's) we are lucky enough to have witnessed a true genius in the ring during our time it's such a shame though that there not seen for how truly great they are while there still active. Take Muhammad Ali for instance he was ridiculed during his career and disliked it was only once the dust had settled we realized just how truly great an artist we had seen.
I say artist as he made it seem like art the way he moved and picked off his opponents one by one. This is happening all over the Internet currently with Mayweather but I just can't understand it if you look at the majority of his opponents running up to the fight there built up and built up as soon as Floyd signs to fight them a slow flow of breaking down begins until fight night when there taken apart fully and then after people are straight away saying there weak and should never have been in the ring!
I watched one of his old fights against Arturo Gatti the other day and wow the way he took him apart was frightening to see it was an absolute master class a near if not perfect performance against a real warrior and the same with Hatton who had steam rolled everyone till that point.
People what I'm saying is in 10 or 20 or even a 100 years time from now people will be debating him as the pound for pound greatest of all time in fact there's some arguments for him to be so now so enjoy it while its here for us to see or even try and get to see him live!