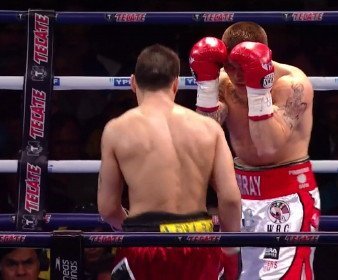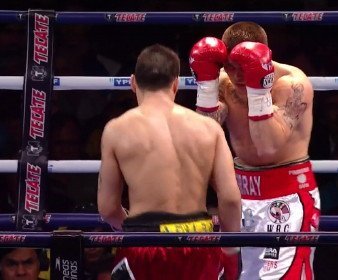 #1 WBA, Martin Murray (25-1-1, 11 KO's) thinks he would give WBA middleweight champion Gennady Golovkin (27-0, 24 KO's) a lot of problems if he were to face him next. Murray feels he's a cut above the guys that Golovkin has been facing recently, and he thinks he'd give him a really difficult fight. Golovkin's manager recently contacted Murray's manager to find out the status of his visa problems in connection with a possible fight in the United States on November 2nd.
Murray still hasn't ironed out the visa problems as of yet, so it's unclear whether a fight between Golovkin and Murray would be a realistic option for Golovkin.
Murray said to Livefight "Look at Golovkin's opponents…he's not fought anyone like myself. That's when you'll see the best of me. Me and Golovkin would be a hell of a fight."
Golovkin's trainer Abel Sanchez doesn't think so. He said "He [Macklin] gets stopped the same way Macklin did."
I think Sanchez might be right. Murray is good at covering his head. In fact, he kind of reminds me of a bigger version of Joshua Clottey with his high shell guard that he keep up all the time. Like Clottey, Murray doesn't throw a lot of punches, and he tends to rehydrate up in weight after making weight.
He's a pretty heavy middleweight. However, Murray leaves his body unprotected because he's always got the high guard up, and he's vulnerable to fighters like Golovkin who throw to the body. Murray recently lost a close 12 round unanimous decision defeat to WBC middleweight champion Sergio Martinez last April in Argentina.
Murray gave Martinez a lot of problems in that fight by blocking a lot of his head shots throughout the fight, and landing an occasional hard punch or two. But Martinez doesn't throw body punches. He's strictly a head hunter and it was easy for Murray to keep block shots with his high guard.
However, Murray didn't fight like he came there to win the WBC belt. He fought like he was there to survive, and just not get knocked out. When you get a fighter like Murray who keeps his guard up 95% of the time without throwing punches, that's a fighter that is just coming to survive.
Golovkin would attack Murray's body immediately once he saw him using the clam shell defense and the fight would likely be over in 1 or 2 rounds. I can't even see Murray lasting as long as Macklin because he would be fighting like a sparring partner instead of someone that was coming to try and win.