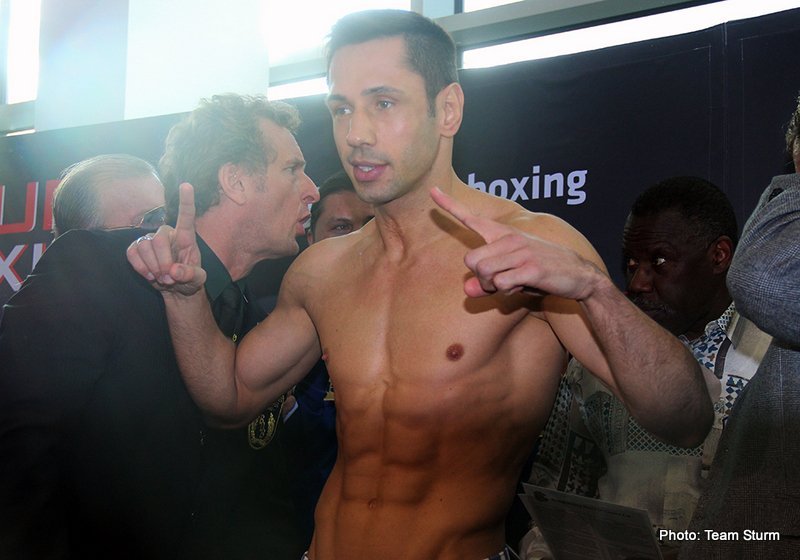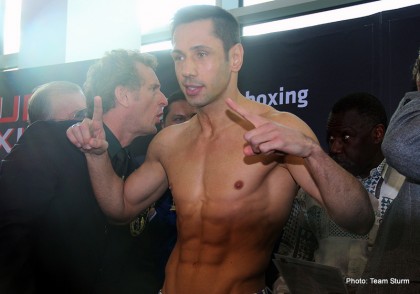 It feels like a long, long time since Germany's Felix Sturm (39-4-3, 18ko) fought Oscar De La Hoya in 2004 and announced himself on the world scene in a fight many felt he was hard done by to lose. In the intermittent years the German has remained a dominant champion although he has never again traveled outside of his home country.
British fans in particular will remember he had good back to back fights with both Matthew Macklin and Martin Murray in 2011 who were sadly unsuccessful in their challenges to his title. In Macklin's case especially, Sturm had a karmic helping hand winning a SD – if he was unlucky in Vegas against De La Hoya – It was Macklin who was hard done by that night.
A draw with Murray followed and then in 2013 he defeated IBF champ Darren Barker – who retired through injury soon after – so he's not a fan favourite among Brits, that's for sure!
Now at 36, Sturm – who dropped the IBF title in a shocking performance against the limited Sam Soliman a year ago, returns to face unbeaten Russian Fedor Chudinov (12-0, 10ko) after battling countryman Robert Steiglitz to a draw in his last fight.
The fight is for the WBA (reg) 168lb strap and should the ageing German win – it will give him leverage to challenge countryman Arthur Abraham for his WBO super middleweight strap – a belt he defends incidentally against Stieglitz in July.
Provided Sturm comes through against the young Russian on Saturday – which isn't a given – it's a win/win situation for him as he can have the winner in another massive all-German showdown.
But who is Fedor Chudinov? And can he spoil the party?
In essence he is a bit of an unknown quantity, though like his brother Dmitry – who was game yet extremely limited in defeat to Chris Eubank Jr at 160lb earlier this year – he holds an interim version of the WBA title that has afforded him this chance.
From the footage I've seen he boxes very much like his brother – a come forward fighter, who fights in straight lines with very little head movement. Sure, he can bang – his fight from December last year against fellow prospect Ben McCullogh in Russia is worth a watch on YouTube. He takes the Australian out with a big right in the 2nd round that knocks him out COLD yet there is nothing special about the way he fights.
Let's not kid around here, Sturm is a good couple of levels above Chudinov and the Sturm of 4 or 5 years ago would beat him comfortably on points in my eyes.
The real question is, what has Sturm got left? The chance of a possible showdown with Abraham or Stieglitz should be enough motivation for him but motivation alone doesn't win you fights. After becoming a father once again recently and not having won a fight in 18 months, it's fair to ask if the hunger and desire is really still there as well as the ability to cope with the physical rigours of a hard training camp. He has been a shadow of his old self recently, there is no doubt about that.
Fedor is arguably the more talented of the two Chudinov brothers but with just 12 fights on his slate, nearly all early finishes, we don't know if he has the engine or the experience to go 12 rounds with Sturm. His skill set appears limited with power his only real asset and I have a sneaking suspicion this fight has come a little too early for the 27 year old Russian fighter.
I see this as Felix Sturm's fight to LOSE in front of a loyal and partisan German crowd mind you – and they may well be able to see him over the finish line if he is forced to dig deep.
Bereit für die Waage! 13 Uhr morgen, Roomers Hotel, Gutleutestrasse 85 in FFM! Seid Ihr dabei?Spreman za vaganje!…

Posted by Felix Sturm on Thursday, May 7, 2015
From the recent pics on his twitter, Sturm is promising that he is fit, ready and waiting to keep the belt in Germany on Saturday.
If he does win it will be on points, and should he get hurt in the fight – he has ten fold more experience than the Russian from which to draw from.
It should be a decent little fight – and Saturday will tell us if Sturm really has still got what it takes…..
Many thanks for reading – All my boxing stuff is on my Twitter @Undilutedpoison