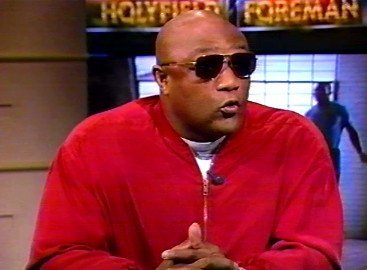 Living legend and former four-time heavyweight king Evander Holyfield is currently in the UK, and tonight on "The Bunce Boxing Hour," the finest cruiserweight in the division's history was asked, amongst other questions, just who hit his famously granite chin the hardest during his amazing, over twenty-five year pro career.
"The Real Deal" didn't hesitate as he brought up one man's name with something that looked like a shiver, "George Foreman," he answered. "Big George."
"He hit me one time, and my feet froze. I went back to the corner and I asked them, had he knocked all my teeth out! They said, 'no, you're fine,' but I think they just didn't want me to quit. The next round, I held George."
Holyfield and Foreman met in the fabulous, "Battle of The Ages" in April of 1991, with Holyfield, who was making the first defence of the heavyweight crown he had captured by knocking out James "Buster" Douglas the previous October, winning a hard fought and quite close 12-round unanimous decision. Evander didn't get the respect his win should have got him, yet today, when looking back in hindsight, fans appreciate how Holyfield, at a mere 208-pounds ("I eat that much for breakfast," Foreman said in on of his numerous quips) beat the monstrously strong and powerful 257-pound Texan giant.
No wonder Holyfield calls Foreman the hardest puncher he ever faced. Sure, Evander also mixed it with sluggers Mike Tyson, Riddick Bowe and Ray Mercer, not to mention the classy and hard-hitting Lennox Lewis, but he was in his absolute prime when he faced the wrath of Foreman, and he survived. To think, Foreman knocked out Joe Frazier, Ken Norton and, further in his comeback, Holyfield conqueror Michael Moorer, yet George could not fell the former light-heavyweight from Georgia. No wonder Holyfield is proud of the way his chin stood up to Foreman's right hands.
Bowe would stop a strength-depleted Holyfield in their third memorable battle, this after getting up from a brutal knockdown, but "Big Daddy" caught Holyfield at a time when the smaller man was, unbeknownst to almost everybody, suffering from hepatitis. How the outcome of that rubber-match might have been different had Holyfield been at a hundred-percent.
But when it came to cracking chins, "Big George" stands alone. There was, however, one iron jaw even he was unable to put a dent in.