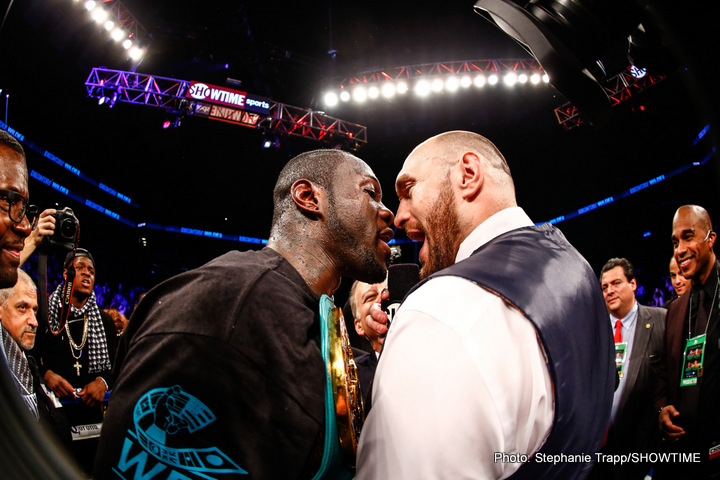 Unbeaten KO star and reigning WBC heavyweight king Deontay Wilder wants a lot of things: he wants to unify the heavyweight titles, he wants to go out of boxing having left a great legacy and he wants to give his many fans great, exciting fights. But right now, it seems the thing topping Wilder's wish list is a fight with fellow unbeaten, Tyson Fury.
Back when he defeated a game Artur Szpilka by brutal KO, Wilder was confronted in mid-ring by Fury. It seems the challenge Fury laid on him annoyed "The Bronze Bomber," and he now says he will gladly come to the UK to get it on with Fury. The mouth-watering clash will have to wait until Wilder deals with his mandatory, Alexander Povetkin (the fight possible for April according to a piece on Ring.tv.com) and until Fury faces Wladimir Klitschko for a second, contracted fight (still nothing concrete on when this fight will happen, Fury even hinting he may retire instead). But, assuming both heavyweight champions get past their next fight, a massive Fury Vs. Wilder match-up could happen this year.
Speaking with Radio Row, Wilder said he wants to be a true "world champion," and that means fighting abroad as well as at home in America.
"When he got in the ring I told him I'll come to his backyard and I meant that," Wilder said of Fury. "I'm willing to come over there. If he wins, I'm willing to come over there to take the titles. I'm very comfortable with England – I've got a lot of friends, a ton of fans. I feel that when they say heavyweight champion of the world – that's a world traveller, not just in your home country. When my legacy's over and done, I want to be labelled as someone who went behind enemy lines, fought everybody and had great exciting fight every time I came back. I'm looking to do remarkable things in boxing, looking to bring it back like it once was, even better. I think I can do it. I can see it happening. I will be remembered as the man who brought boxing back single-handedly."
If Wilder can look impressive beating Povetkin (no easy task, many fans feeling Povetkin will actually win the fight instead) and then take away Fury's belts and unbeaten record, he will be getting somewhere in his quest to "bring boxing back." But as to whether or not Wilder – a genuinely frightening puncher but a fighter who has his share of flaws and has yet to beat a truly formidable opponent barring, arguably, Bermane Stiverne – can make fans remember the glory days of the heavyweights, the 1970s, most people would likely doubt it.
Let's see how Wilder looks against dangerous and motivated Russian Povetkin before we start talking about the WBC champ's legacy.