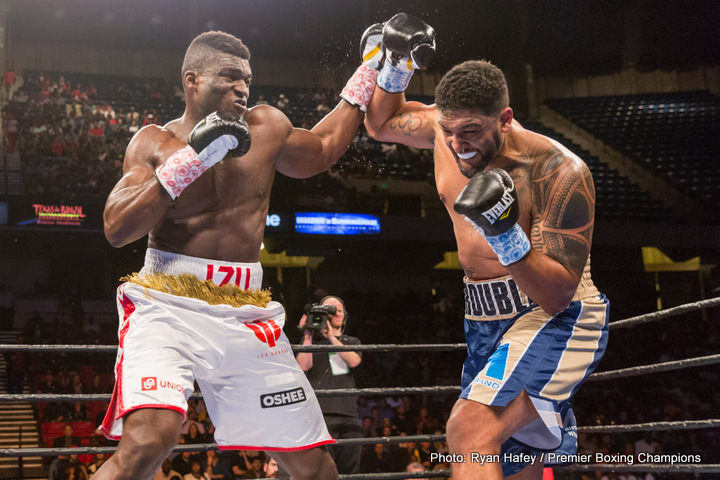 Top heavyweight title contender Dominic Breazeale will take on Eric Molina in a 12-round WBC title elimination match on the undercard of the showdown between WBC heavyweight champion Deontay Wilder and Bermane Stiverne live on SHOWTIME on Saturday, Nov. 4. The event is presented by Premier Boxing Champions from Barclays Center, the home of BROOKLYN BOXING™.
The stacked card will also feature former welterweight champion Shawn Porter taking on Adrian Granados and Sergey Lipinets battling Akihiro Kondo for the vacant junior welterweight title in televised bouts. The live three-fight SHOWTIME CHAMPIONSHIP BOXING telecast begins at 9 p.m. ET/6 p.m. PT.
Plus, five-time world champion Amanda Serrano of Brooklyn takes on Marilyn Hernandez, Long Island's Seanie Monaghan (28-1-0, 17 KOs) makes his ring return to face Evert Bravo (23-6-1, 17 KOs), from Arboletes, Colombia, and Brooklyn's Chris Colbert (6-0, 2 KOs) battles Long Island's Titus Williams (7-0, 2 KOs) in an eight-round featherweight bout.
New prices have been set for tickets to see the event live at Barclays Center, giving fans an unprecedented opportunity to see the heavyweight champion of the world in a rematch against the only contender who has taken him a full 12 rounds.
Tickets for the event, which is promoted by DiBella Entertainment and TGB Promotions, are on sale now and can be purchased at ticketmaster.com, barclayscenter.com or by calling 800-745-3000. Tickets can also be purchased at the American Express Box Office at Barclays Center. Group discounts are available by calling 844-BKLYN-GP.
"We've recognized that Deontay's opponent has changed, and we've restructured ticket prices to encourage as many fans as possible to attend a great night of fights, and the Heavyweight Championship of the world," said Lou DiBella of DiBella Entertainment, the promoter of the card. "Stiverne is thrilled for this second chance and he has nothing to lose. Bermane Stiverne is the only opponent that Deontay hasn't knocked out among his professional opponents. Deontay wants to fix that and Stiverne is looking to throw a wrench into Wilder's dream of heavyweight unification."
Wilder (38-0, 37 KOs) dethroned defending champion Stiverne in January 2015 via unanimous decision in what was the promising challenger's toughest fight to date. With the win, Wilder became the first American heavyweight champion in nearly a decade and he has gone on to defend the title five times. Stiverne (25-2-1, 21 KOs) remains the only Wilder opponent to go the distance with the hard-hitting Tuscaloosa, Ala., native who has knocked out every other professional opponent on his long resume.
Dominic Breazeale (18-1, 16 KOs), who lives in Eastvale, California, is coming off a KO victory over Izu Ugonoh on Feb. 25. The 32-year-old Breazeale suffered the only loss of career in a heavyweight championship match against Anthony Joshua in London on June 25, 2016.
Eric Molina (26-4, 19 KOs) has twice fought for the heavyweight world championship. In his first title shot the 35-year-old from Weslaco, Texas was knocked out by Deontay Wilder on June 13, 2015. Molina lost via TKO to Anthony Joshua in his next opportunity on Dec. 10, 2016. Molina bounced back with a majority decision victory against Jamal Woods in his last fight on Sept. 2.
Five-division world champion Amanda Serrano (33-1-1, 25 KOs) will be making her fourth appearance at Barclays Center when she defends her super bantamweight world title against Marilyn Hernandez (26-10, 17 KOs). Serrano, who was born in Puerto Rico and lives in Brooklyn, successfully defended her title with a TKO victory over Edina Kiss in her last fight on July 21. Hernandez of Santo Domingo, Dominican Republic scored a TKO victory over Maria Hernandez in her last fight on Jan. 10.
###
After an unexpected two weeks which included uncertainty and disappointment, heavyweight contender Dominic "Trouble" Breazeale (18-1, 16 KO's) will return to the ring after all on November 4, 2017 on the Premier Boxing Champions series on Showtime Extreme. Breazeale was originally scheduled to face Bermane Stiverne (25-2-1, 21 KO's) in what would have been a WBC heavyweight title eliminator with the winner facing either Deontay Wilder (38-0, 37 KO's) or Luis "King Long" Ortiz (27-0, 23 KO's). With Ortiz later testing positive for a banned substance, Stiverne was elevated to the main-event now facing Wilder and subsequently leaving Breazeale without an opponent.
As disappointing as Breazeale was with the unfortunate outcome of no longer having an opponent, he took it in stride and knew that things would work out. "It's always disappointing when a fight gets cancelled. But this one more so because what was at stake, a shot at the WBC world heavyweight championship and an opportunity to take care of personal business. Nevertheless, I stayed in the gym working hard and my adviser Al Haymon told me it would work out," stated Breazeale.
An opportunity shortly thereafter presented itself with an offer to fight Dillian Whyte (21-1, 16 KO's) on October 28th in Cardiff, Wales. Breazeale was open and ready to take on the challenge but felt as the offer was not suitable. "I am open to fighting anyone in the heavyweight division and Dillian Whyte is no exception. I stated I was willing to fight him and I believe that his team thought they could take advantage of the situation due to the fact that I had no opponent. Eddie Hearn said there was a substantial offer that was made and the offer that was presented was far from substantial," said Breazeale.
Breazeale who is ranked #6 (WBC), #7 (IBF) and #4 (WBO) respectively, will now be facing Eric Molina (26-4, 19 KO's) who is ranked #12 (WBC) and the bout will still be for the WBC heavyweight title eliminator. Breazeale is genuinely pleased with the outcome of how things played out and isn't taking Eric Molina lightly.
"I am glad everything worked out the way it did. I trust my adviser Al Haymon and I know he has my best interest at heart. That's why everyone wants to sign with him. He takes cares of his fighters," stated Breazeale.
"With that being said, I can't wait to get back in the ring and give the fans a show. I know Eric Molina is a banger and he's coming to fight. He now has an opportunity to fight for the WBC world heavyweight title again and I know he is coming to win. The plan is to finish camp like I had planned originally and come to New York on November 4th and get that win and be ready to face the winner of the main event. Other than that, there's not much more to say."