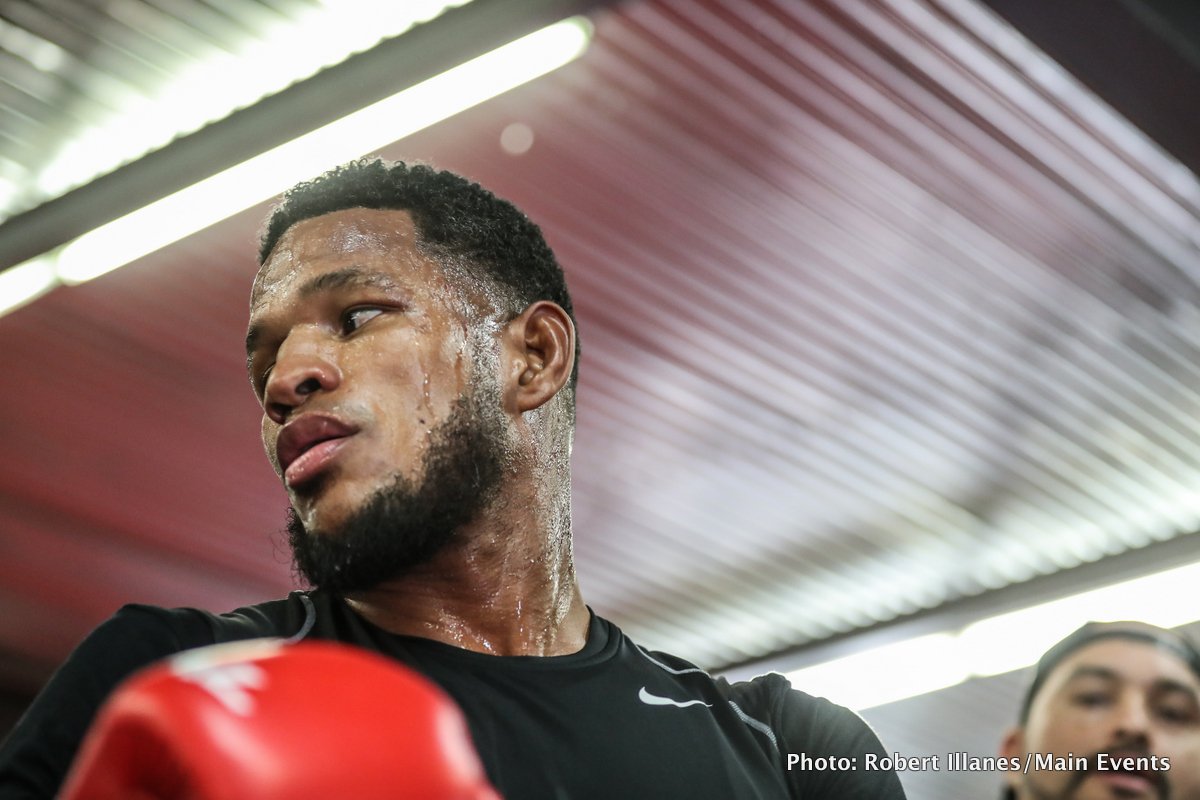 Yesterday Sullivan Barrera (21-1, 14 KOs) met with members of the media in Miami to discuss his upcoming mandatory challenge fight against WBA Light Heavyweight World Champion Dmitry Bivol (12-0, 10 KOs) at The Theater at Madison Square Garden Saturday, March 3. The bout will be the co-main event on the Sergey "Krusher" Kovalev vs. Igor Mikhalkin HBO World Championship Boxing telecast which airs at 10:05 p.m. ET/PT.
Sullivan Barrera:
On fighting in a title bout:
"This would be a very important victory obviously because I want to look to the future after this. It would be a dream come true to win the title. And we would see what happens after that. There are a lot of big names out there."
His plan fighting Bivol:
"Bivol is a good fighter and it is known that he has speed but we have a plan to adjust to the speed and take it away. We are going to impose ourselves and use our abilities."
His thoughts on Bivol:
"Bivol is the champ and he has to be respected as such but I have fought big names before and that's going to give me an edge. I have been there before, fighting in big fights."
Regarding adversity and coming back from knockdowns:
"Things happen in a fight but you can see every time that it has happened the switch has gone on and activated me and I become a lot more dangerous. Obviously, that's not the plan that it happens in any fight and we hope it doesn't happen in this fight either. I know the crowd likes the drama and the excitement of it and it's worked in our favor every time."
What's next?
"After March 3rd, when I get the belt, I'm ready, I'm ready right now for everyone, open for everyone. I'm a fighter and open to fight everybody. I'm a throwback fighter. I'm not thinking about sitting down. Of course, things need to be done right financial-wise but I am willing to fight anybody."
His strategy for Bivol:
"Obviously, we can't reveal our strategy and our plan, but I can tell you we are going to go out there 100% and leave it all out there in the ring to get the victory."
Sullivan Barrera: "After Ward, Bivol is my toughest challenge"
Top light heavyweight contender Sullivan Barrera is working hard in the second half of his training camp for his March 3rd HBO televised clash against WBA light heavyweight champoin Dmitry Bivol. The 35-year-old former Cuban amateur standout has been on quite a run. After losing a unanimous decision to the now retired former pound-for-pound king Andre Ward, Barrera has put together a four fight win streak against the likes of Vyacheslav Shabranskyy, Paul "Pay Per View" Parker, Joe Smith Jr. and the hard hitting Felix Valera.
While that is an impressive list, Barrera knows that none of those opponents are as formidable as the challenge that lies ahead of him on March 3rd at The Theatre at Madison Square Garden.
"Bivol is a great fighter. He will be the second best fighter I have faced and second only to Andre Ward," said Barrera. "He has a great amateur pedigree and has been knocking out the majority of his opponents. I know I need to bring my 'A' game to beat him."
Bivol has stopped his previous four opponents and only 2 of his 12 victims have made it to the final bell. Barrera has a lot of respect for his opponent and believes his power is legitimate.
"He has knocked guys out with one punch. I know I have to be careful in there. He is a very confident fighter. He knows he has power and knows how to get in position to use it. That is why I am taking him very seriously," Barrera explained.
Barrera knows that a victory over Bivol will open a lot of doors as fights against champions like Sergey Kovalev, the Adonis Stevenson-Badou Jack winner and Artur Beterbiev could be available to him but the Cuban refuses to look ahead.
"March 3rd is all that matters. God willing I get the win and then we can talk about future plans but right now I am focused on Bivol. I know I have to concentrate on him and give him all of my attention," said Barrera.
Dmitry Bivol looking forward to Sullivan Barrera fight
On Saturday at Madison Square Garden, World of Boxing hosted a media round table with WBA Light Heavyweight World Champion Dmitry Bivol (12-0, 10 KOs). Bivol, the 26-year old from St. Petersburg, Russia by way of Kyrgystan, Moldova and Korea, charmed the media who came out to see him, many of whom met the young champ for the first time.
The wide-ranging conversation touched on Dmitry's childhood in Kyrgystan, his Korean heritage, how we got into boxing, and the current state of the light heavyweight division.
On the light heavyweight division and his place in it, Bivol said, "number one is vacant. I'm not sure who exactly is the best. Maybe we'll have a chance to figure it out." He later continued, "I'm very happy for Andre Ward because I'm very happy for all the athletes that finish their careers on a successful note. But, of course, I'm upset that my division lost a really important opponent for me. Judging by the last couple fights of Andre Ward, he could definitely have stayed for a couple more and showed more fun battles for his fans."
Bivol was asked how he would approach fighting on HBO and when he might fight two-time light heavyweight champion Sergey Kovalev. He replied, "It's a hard question. It depends on my opponents just as much as it depends on me. If I keep showing very good fighting against all the different opponents, then hopefully the American people would be just as happy to see me as they are to see Kovalev."
When asked if it's true that he prefers knocking out his opponents, Bivol said, "I don't necessarily like knockouts, but the crowd likes knockouts. They buy tickets, they come to see boxing because they like knockouts. They like to see blood, they like to see war. So, I like to fight so people are satisfied with buying my tickets and seeing my fights."
Unlike many fighters, Dmitry did not get into boxing as a way of getting out of street fighting. He explained, "I was a huge fan of Jackie Chan growing up, so I kind of got into boxing because I wanted to do the same kind of stuff as Jackie Chan."
The New York reporters were eager to know if Bivol had dreamed of one day fighting at "The Mecca of Boxing." Dmitry said that, as an amateur, "it was my coach's dream that his student would be fighting in the biggest boxing arena in the world, specifically Madison Square Garden, and I'm hoping that this will happen."
It was also announced that World of Boxing will partner with Main Events on Bivol's next fight, which will take place in the United States. World of Boxing is working with HBO Executive Vice President Peter Nelson to pick a date for the world champion's second title defense. Andrey Ryabinsky of World of Boxing said, "In the first quarter of next year, we plan to organize a fight for Dmitry Bivol in the USA. We hope that we will be able to negotiate a deal with one of the top opponents in the division. Dmitry is ready to fight the best and has been asking for a top-rated opponent." Bivol's manager, Vadim Kornilov, added, "We are very excited with the way Dmitry's career has progressed and are looking forward to his next appearance in the US, possibly in the legendary Madison Square Garden arena!" When asked about working with a US promoter, Bivol stated, "World of Boxing is partnering with Main Events. I'm happy with that." Main Events CEO Kathy Duva adds, "Dmitry has the potential to be a big star here in America and on HBO. I look forward to showing World of Boxing, Dmitry, and Vadim what we can do!"
As it was Dmitry's first time at Madison Square Garden, after the media roundtable he received a VIP tour of the facility, then sat ringside for the Kovalev-Shabranskyy event, promoted by Main Events and Krusher Promotions in association with Golden Boy Promotions and Shuan Boxing Promotions.
Bivol with his manager, Vadim Kornilov
In the main event, two-time light heavyweight world champion Sergey Kovalev defeated Vyacheslav Shabranskyy to reclaim the WBO Light Heavyweight Title. In the co-feature, Sullivan Barrera topped Felix Valera in a contest to determine Bivol's mandatory challenger.
After the event, Bivol tweeted that he would like to meet Sullivan Barrera in the ring:
"I have not changed my mind about Barrera – he's a technical fighter with a hard punch. I would very much like to go out against him in the ring. For me it will be a serious experience, a serious challenge, a good chance to see a spectacular fight for boxing fans #BarreraValera"