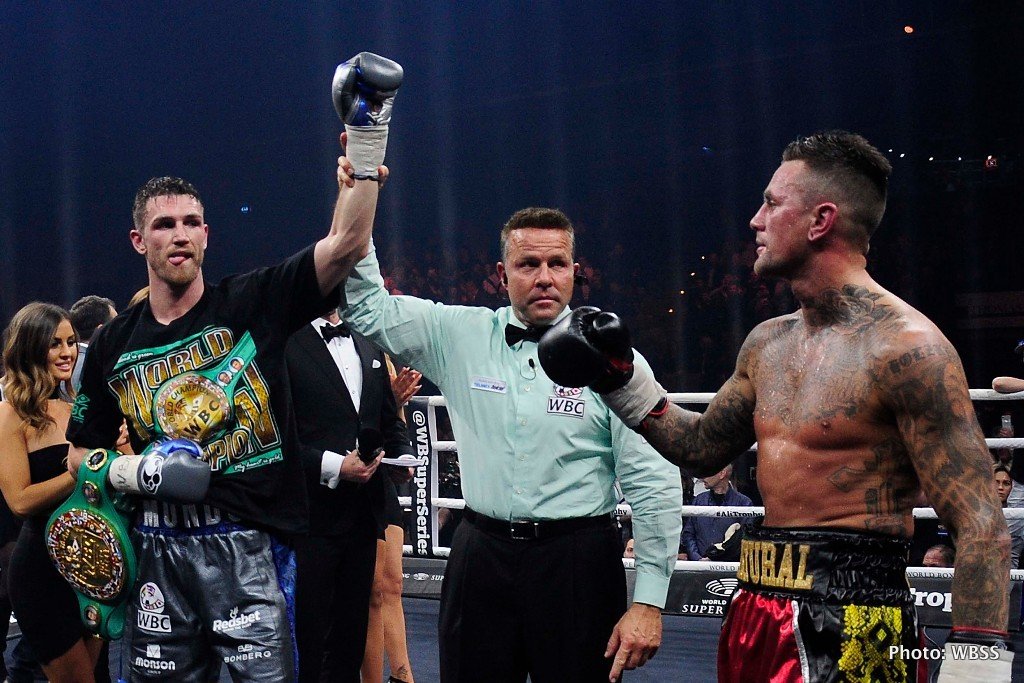 Callum Smith (24-0, 17 KOs) earned a spot in the World Boxing Super Series finals with a dull 12 round unanimous decision win over replacement opponent Nieky Holzken (13-1, 10 KOs) on Saturday night at the Arena Nürnberger Versicherung, Nuremberg, Germany. The scores were 117-111, 118-110 and 117-111. Boxing 247 scored it for Smith by a 117-111 score.
Holzken surprised a lot of boxing fans tonight with his game effort against Smith. Few would have expected Holzken to be as competitive as he was. Holzken got the better of Smith in rounds 5, 8 and 12. Those weren't just rounds that Smith gave away. Holzken took the fight to Smith and had him looking beatable.
Smith landed a big right uppercut in the 11th round that Holzken took. That was arguably the best round of the fight for Smith. Holzken showed no signs of being hurt from the shot, and he continued to stalk him and head hunt. By the end of the round, Holzken was landing his own big shots and he Smith looking more than a little worried and tired.
This was NOT an impressive performance from the 27-year-old Smith. He should consider himself very lucky that his original scheduled opponent Juergen Braehmer dropped out of the tournament last week due to an illness. The way Smith looked tonight, he would have lost badly to the 39-year-old southpaw Braehmer. Smith was slow, one-paced and pedestrian the entire fight tonight. The only reason he won was because Holzken wasn't letting his hands go enough. But when he did throw punches, he had Smith backing up and looking weak and more than a little defensive.
With the win tonight, Smith will meet WBA Super World super middleweight champion George Groves on June 2 in the finals of the World Boxing Super Series tournament at the O2 Arena in London, England. Groves, 29, was in the audience tonight and grinning from ear to ear at how bad the 6'3″ Smith looked. Going into tonight's fight, many boxing fans believed that Smith was capable of beating Groves. That opinion will likely change. Now it's almost academic that Groves will beat Smith to capture the WBSS tournament victory on June 2 unless his injured left shoulder starts acting up on him.