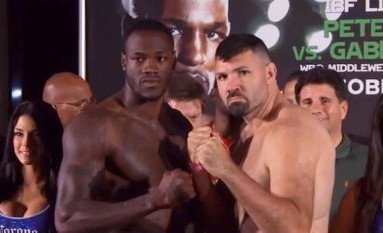 #3 WBC, #7 WBA, Deontay Wilder (29-0, 29 KO's) will be looking to stay in the hunt for a world title shot by staying busy tonight in a 10 round scheduled bout against Nicolai Firtha (21-10, 8 KO's) at the Boardwalk Hall, in Atlantic City, New Jersey, USA. Wilder will likely be facing one of the top contenders such as Bermane Stiverne or Chris Arreola in early 2014 and then fighting for a world title soon after that. Deontay actually sees himself getting a title shot by the early to the middle point of next year.
Deontay said "I'm thinking early-to-mid next year [for world title shot]. We're trying to line it up now. At the moment I'm ranked number 3 by the WBC, so we're in planning right now."
This means that Deontay will either be facing WBC heavyweight champion Vitali Klitschko or facing Stiverne for the vacant WBC belt if Vitali is stripped or vacates the title. It's difficult to picture Vitali agreeing to fight Deontay right now given that Vitali has been out of the ring for over a year and he recently announced that he's going to run for the president of Ukraine. It might look bad if Vitali were to take the dangerous fight with Deontay and possibly end up getting knocked out by him. It wouldn't be fatal to his political career, but I doubt it would help it any either.
Firtha vs. Deontay is a decent match-up. Deontay wanted a better opponent than this, but there wasn't a lot of time and money to get a top name. With Deontay at third billing on the undercard of the Bernard Hopkins vs. Karo Murat fight card tonight, it wasn't like Deontay was the co-feature or heading the bill.
When you're the third fight from the top of the card, it makes it difficult to get a big name unless Deontay's promoters at Golden Boy Promotions wanted to shell out a ton of cash to get someone.
If this was a pay-per-view card then that scenario would have likely happened, but this is a regular Showtime card and there wasn't a ton of money to get the kinds of names that Deontay wanted to face. However, Firtha is still a good opponent for Deontay and it'll help him improve by giving him the opportunity to face a large heavyweight with the same height at the 6'6" Wladimir Klitschko.
That's who Deontay wants to face in the near future, and Wladimir seems to be interested in that fight taking place as well. If Deontay can capture the WBC heavyweight title, it would set up a potential unification bout between him and Wladimir.
All those years that Vitali held the WBC title, it's kept Wladimir from attempting to capture the last remaining world title that's not in his possession. But if Deontay can win the belt, it'll put Wladimir and Deontay on a collision course for a big money unification bout in the future. But first things first, Deontay must get past Firtha tonight, look good, and then move forward for a huge fight in early 2014.