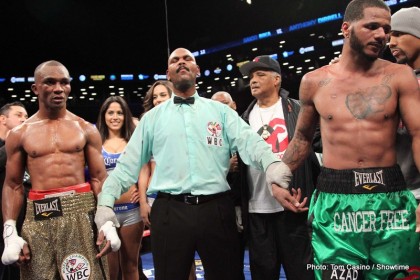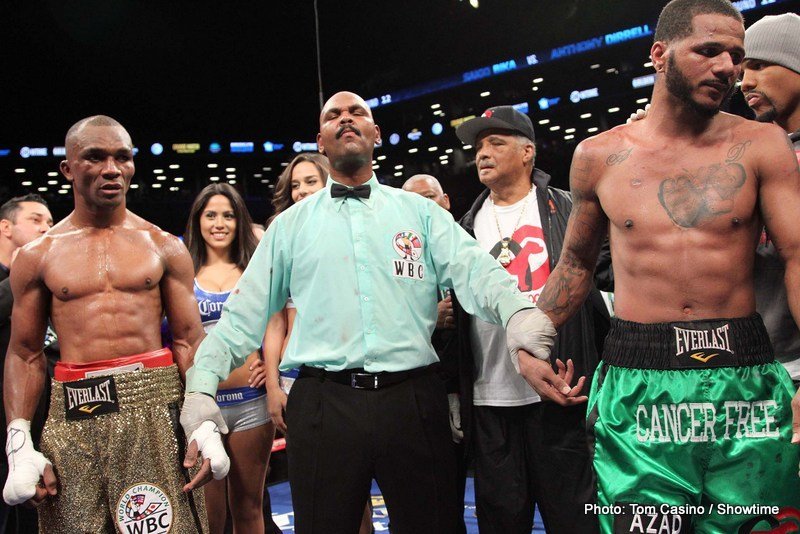 Super middleweight warhorse Sakio "The Scorpio" Bika, from Sydney, NSW, Australia, retained his WBC strap with a split draw against Flint, Michigan's Anthony "The Dog" Dirrell in Brooklyn, New York, Saturday night.
In the opening televised bout from the Barclays Center, Douala, Cameroon born Bika was the much more aggressive fighter throughout the twelve rounds.
In his first defense, thirty four year old Bika, rated 8 at 168 pounds by The Ring, began the fight looking intent on a knockout, recklessly throwing wild over hand rights and was picked off by the five years younger Dirrell, who had a three and a half inch reach advantage.
But Bika never stopped pressuring and from the start did good work to the body which told late in a gruelling match up but the big moments early came from the challenger.
The WBC's number 8 contender stopped the champion in his tracks with a couple of nice one-twos in the third and he almost put him out in the fifth.
Late in the round a short right hand stood Sakio up as he lifted his head off a break and another clean right hand had him holding on, finally stumbling face first into the floor. It was his last round.
Bika was still unsteady at the beginning of the sixth but, following his trainer Kevin Cunningham's instructions by throwing punches as he walked up and smothering Dirrell against the ropes he connected with stiff uppercuts and clubbing rights.
The 2000 Olympian's style is crude – but effective. Going the twelve round journey for the ninth time, he made the contest a battle of attrition continuously taking it up to Dirrell who'd never before seen the ninth. The veteran title holder picked up his work downstairs and his unorthodox rights from the out field kept Dirrell wary and unable to commit to his own body attack.
Dirrell complained of head butts and Bika was deducted a point for a low blow in the eleventh when a left hook strayed low. Sakio was then warned of disqualification in the final round for a forearm. It didn't tame his aggression.
After the decision the American left the ring immediately, but he was simply out worked by the less skilled but more willing champion.
My score was 115-111 for Bika. Official scores 114-112 Bika, 116-110 Dirrell and 113 -113 even.
The result was Bika's third draw in forty fights against 32 wins, 21 by knockout and five defeats. Dirrell goes to 26-0-1, 22 KOs.