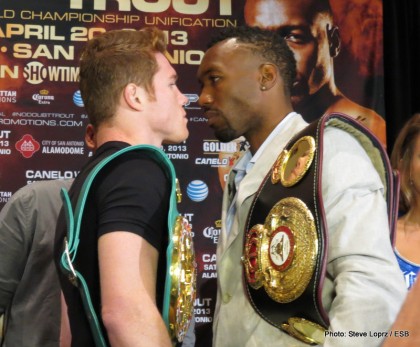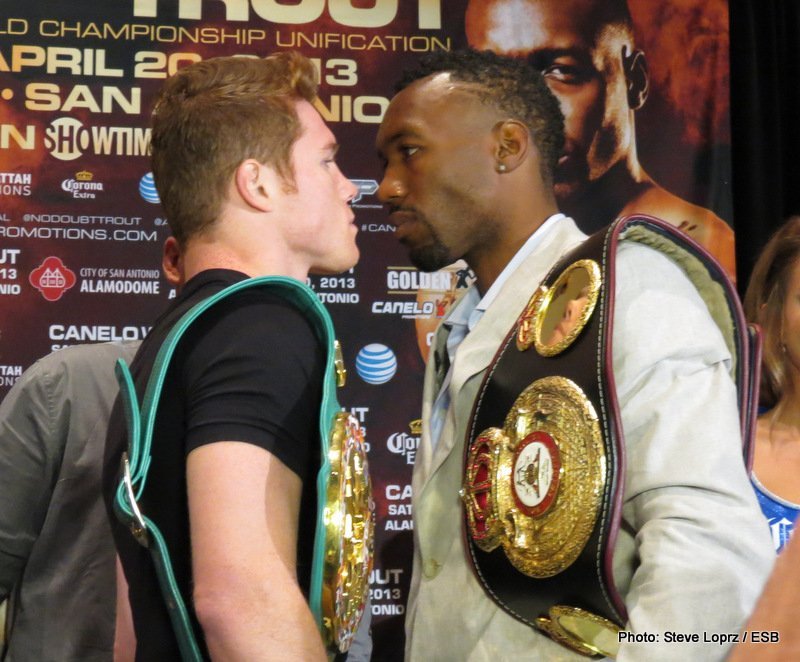 The boxing buzz continued in San Antonio, TX with Day 2 of the Saul Alvarez VS. Austin Trout fight week. Day 2 consisted of the Final Press Conference to officially provide closing remarks from the fighters, trainers and promotion managers. Media members from all avenues ranging from television stations/networks, news columnists, internet media and local broadcasting gathered to provide exclusive coverage of the Super Middleweight unification showdown taking place in a few days at the Alamodome.
If media individuals were expecting scuffles and bittersweet trash talking from either camp, those individuals were surely disappointed. On the contrary, all of the fighters and camp members, along with promotional representatives, exerted the utmost professionalism towards their opponents and media members. With over 35,000 tickets already sold and countless viewers scheduled to tune in on the Showtime Championship Boxing telecast, this event requires no additional tactics to promote itself.
Beaming with confidence, fighters provided closing remarks and promised a victory to maintain their undefeated record along with adding another championship belt to their waist. There were also appearances from Puerto Rican super star Miguel Angel Cotto to show promotional support through Miguel Cotto Promotions for his relative fighting on the card: Abner Cotto. In addition, WBC's Jose Sulaiman took the stand to provide support for Mexican superstar Saul Alvarez. Day 3 will end the fight week activities with the official weigh in for all of the fighters on the card, both televised and untelevised. Here are some notable quotes and visuals from the final press conference.
Mike Battah (Leija Battah Promotions)
"We're happy and proud that the Mexicanos and the Texans. This is what boxing is about. The real fans who love boxing."
"This will be the best sport in the U.S. I'll work to the death to make this sport the best."
Jesse James Leija (Leija Battah Promotions)
"Mike Battah and I had six weeks to prepare this fight. 40,000 people. You know why?…because we have two great fighters. You bring the product; the people are going to come."
Jose Sulaiman (WBC President)
"I haven't been traveling much recently due to some issues, but I HAD to come to this fight."
"This boy to my right, Saul Alvarez, is the best champion in the world today."
"To my left, Austin Trout, I consider him an excellent boxer. This is one of the fights that the boxing world needs to keep boxing ahead."
"I want to thank the media. Without you, boxing would just be something else. We need the press' support to have a great fight."
TEAM ALVAREZ
Jose Reynoso
"At this point in the fight, the words are plentiful. The only thing I can tell you is that we're going to be Trout this Saturday. This fight, we'll dedicate to Rigo."
Saul Alvarez
"What can I say? The words are plentiful. On Saturday, we're going to find out who's the best. Simply, the best is going to win."
"I prepared to give the best of me. One always comes with that mentality."
TEAM TROUT
Greg Cohen (Promoter)
"One thing you should never be concerned of is getting a fair shake. I gotta be honest: it's the only thing I'm concerned about in this fight."
"I believe in my heart that nobody can beat Austin Trout, he's the best fighter in the world."
"Austin said it didn't matter if it was 4 to nothing (referring to WBC to WBA officials ratio). Come Saturday night, when the referee raises the man's hand in victory, it's going to be Austin Trout..and there is no doubt about it!"
Bob Spagnola (Manager)
"I want to thank Austin and Austin's family. Austin has a very small circle of people important to his career. I want to thank them for letting me part of his career."
"This is a unification fight. WBA and WBC. Both of them should've been correctly represented and the four officials that were going to be appointed. Unfortunately, we couldn't get that done. And that hurts…because that's just the protocol for a fight of this magnitude."
"But Austin Trout is a real fighter. That's what he does. That's what he wants to do. It's fabulous that we're going to be here for a crowd of this magnitude."
Austin Trout
"Boxing was once called a dying sport. I don't get it, but that's what they were trying to say. You guys come out in full force. Loud, cheering. Making your opinions, wants and desires known. That's what I feel makes these types of fights happen."
"I'm not worried about the officials, the judging. I'm not worried about the hostile territory."
"All I can worry about is the energy and performance I put in the ring. I've been working hard in the ring. We know what we're going up against. It's not going to be a walk in the park. We never came and asked for easy."
"I have no doubt my hand will be raised."
Team Cotto
Hector Soto (Vice President of Miguel Cotto Promotions)
"Golden Boy Promotions and Miguel Cotto Promotions have an important alliance."
"Abner Cotto and Omar Figueroa is a prime example. Both undefeated fighters. Abner Cotto is very hungry and ready. This Saturday he will become champion."
Abner Cotto
"I'm ready for this fight. The biggest fight of my career. We know Figueroa is a strong fighter; a challenge. We have no doubt we are going to win."
TEAM FIGUEROA
Joel Diaz (Trainer)
"Thank you to Figueroa for believing in me."
"Don't blink when Omar Figueroa gets in that ring. When that bell rings, I guarantee you: you guys are going to see some fireworks. And please…don't blink. You guys might miss something very important."
Omar Figueroa
"We're going to see on Saturday. The best man will win. I won't say I'm going to win, that I'm going to knock him out. I'll fight like I always do: with heart and determination. I'll give you my best."
Team Martinez
Raul Martinez
"This is just a great feeling being in the presence of one of my favorite fighters, Miguel Cotto, Oscar De La Hoya. I grew up watching these guys. Being trained by Jesse James Leija. Being in front of my fans."
"This is something that a lot of boxers dream of. Being in a card like this. It's motivating for me."
"Very happy to be here. Can't explain it."
"Get there early. Watch me get a great knockout, a great victory that night."
TEAM CHARLO
Jermall Charlo
"Thank you to everyone making this possible. It's going to be crazy. I'm ready to put on my show."
"I'm fighting before the main event fights. I'm part of the future of boxing. Everybody tune in."