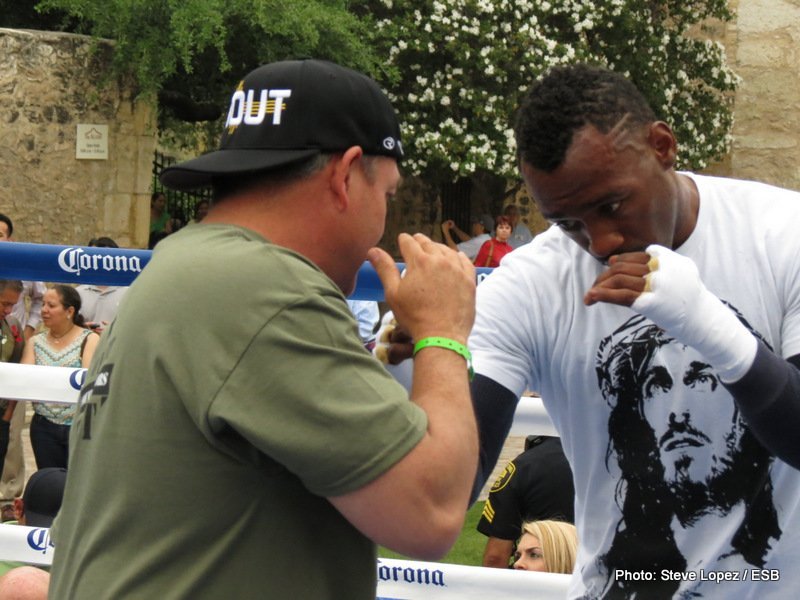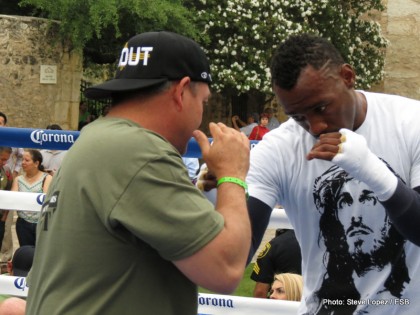 The state of Texas is once again on the boxing spotlight: Saul Alvarez VS Austin Trout fight week has finally arrived in San Antonio, TX!
Although the fighters have been in the city for a few days already, the events that are open to the public and the media officially started this Wednesday 04/17/13. Day 1 featured public workouts from the main fighters on the card: Abner Cotto, Jermall Charlo, Raul Martinez, Austin Trout, Omar Figueroa, Jr. and Saul Alvarez. Even though the activities were taking place during a cloudy afternoon with no sunshine at all and vague mists of rain, the weather did not stop the fans from coming out and showing their support and excitement!
The fighters showcased some of their workout drills, routines and shadowboxing right in front of the historic Alamo monument in downtown San Antonio, TX. WBA Welterweight Champion Paulie "Magic Man" Malignaggi was at hand to lead the event along with Jesse James Leija, a fantastic live band and mariachi group. I had the privilege to capture quotes and visuals from the event.
Austin Trout
"Let's stick together and unite as one. Everybody put your prayers together." (referring to the tragedies of the Boston Marathon a few days ago)
"Saturday we're going to have a great fight. You're going to see nothing but the best we are. It's what ya'll deserve. Thank you guys again!"
Saul Alvarez
"I prepared myself very well because I know I have a big responsibility with you all to continue bringing victories."
"Believe me. I prepared very well to leave that night with my hand raised high. I hope you all enjoy that victory together with me. Thank you all. See you Saturday."
Jesse James Leija
"Chavez, Jr. brought in 15,000 fans for his past fight here in San Antonio. Canelo is bringing in over 30,000."
Abner Cotto was the first to take the ring followed by Houston, TX local star Jermall Charlo and then Raul Martinez.
The crowd showed increased enthusiasm when Austin Trout partook in shadowboxing as well as mitt work with his head trainer. However, the excitement was topped by the crowd's reaction when Canelo made his appearance. No surprise there as San Antonio is definitely be a pro-Canelo town with its diverse Latin American population. Even though Alvarez did not partake in any workout activities, he did address the crowd and was available for interviews.
Day 2 of fight week will continue on Thursday. Exclusive coverage of the final press conference will be provided. More to come!