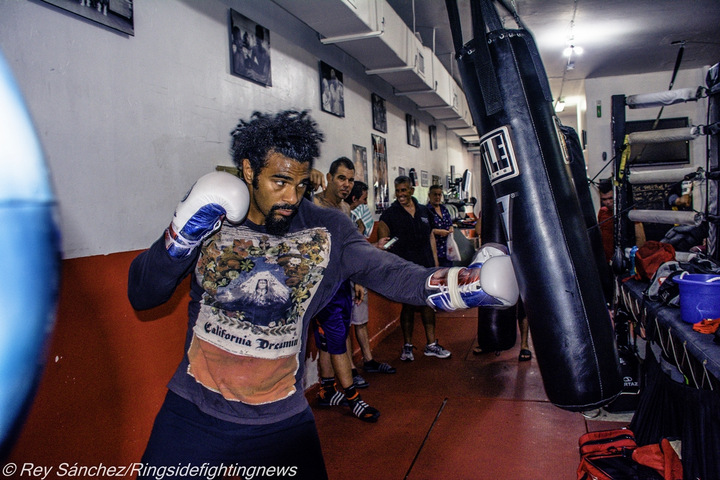 The upcoming David Haye-Tony Bellew fight is a big fight and an attractive fight here in the UK, but Haye is targeting a much bigger fight; one he goes as far as to say is "the biggest fight on the planet." It's no secret Haye believes he will do away with Bellew in double-quick fashion (and he may well do so on March 4) and it's also no secret that the former WBA heavyweight champ wants a shot at Anthony Joshua.
Haye believes that this all-British match-up is one everybody wants to see. Joshua has to get past Wladimir Klitschko first (Klitschko of course holding that wide decision win over Haye) and if he does win on April 29 AJ will have plenty of other options to look at, but Haye feels he should be the IBF ruler's next challenger.
"If AJ beats Klitschko, which I and the rest of Great Britain are hoping he does, any time he is ready to do it I am ready," Haye told Sky Sports News HQ. "I'd have fought him on my first fight back from retirement because I know I can beat him. Hopefully, if he wins, his team will have the confidence – David Haye is the biggest fight on the planet, let's make it happen."
While plenty of fans will no doubt argue how a Joshua-Deontay Wilder fight would be a bigger fight and event than Joshua-Haye, a battle between the two charismatic Londoners would indeed be big. But there is a strong possibility that Joshua, if he beats former king Klitschko, will have his US debut next – so says Showtime's Stephen Espinoza. Would that rule Haye out, at least for the immediate future?
Another good question is, is Haye making a big mistake in looking past Tony Bellew? "Bomber" will be ruining all of Haye's big plans if he causes the upset a week on Saturday. And of course, it is no foregone conclusion that Joshua does defeat "Dr. Steel Hammer," is it. Looking too far ahead can be a dangerous thing for any heavyweight.