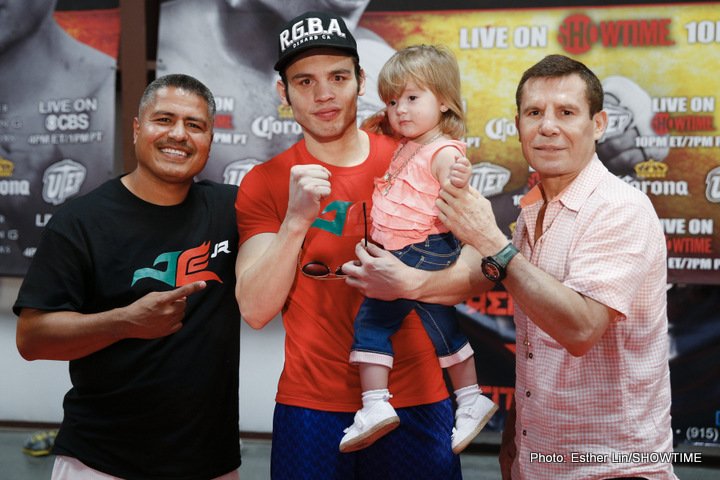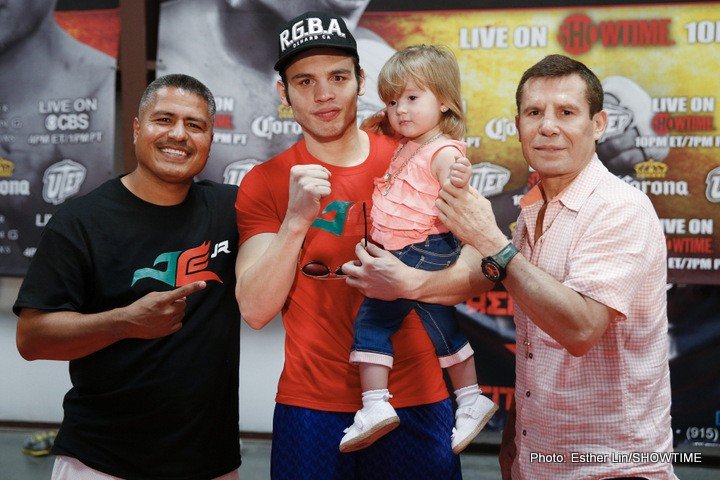 As he continues his preparations for "The Battle of Mexico" with Canelo Alvarez, Julio Cesar Chavez Jr. is already looking to be in good condition. In the past, Chavez suffered in fights due to not having trained properly, but these weight issues appear to have gone for this fight, one the former middleweight champ is calling "the fight of his life."
Chavez appears slimmed down and well on his way to being bang on the 164.5 pound agreed catch-weight for May 6. Motivation is not an issue for the 30 year-old in this, the biggest fight of his career, and Julio Cesar Chavez Senior says that a fully motivated, properly trained Junior "can beat anyone."
Chavez Snr, in speaking with Box Azteca, warned the critics that they will be "eating their words" for dismissing his son's chances against Alvarez.
"I think Canelo has underestimated Julio and continues to underestimate him because he thinks Julio has been very undisciplined, that he does not prepare well, that he has lots of weight problems, but this fight, it is the fight of Julio's life," Chavez Snr said. "Julio is aware that this is a great opportunity, he knows it's a tough fight. But he knows that Canelo has never fought a fighter like him and he knows that if he's prepared well he can beat anyone."
With great trainer Nacho Beristain part of Chavez' team, and with the naturally bigger man seemingly pushing himself hard in the gym, we could be in for a great fight on May 6. Canelo is the favourite to win, but Chavez, if he does come in in absolutely peak condition, could score the upset. It will be interesting to see what Chavez' on-the-night weight will be – but it's possible Canelo will be giving away more weight than in any other fight of his career.
If it does become a physical battle of attrition, will Canelo struggle with a ferociously determined Chavez who has, for the first time in a long time, a full gas tank? Is a gruelling, hugely entertaining distance fight a real possibility for Cinco de Mayo weekend? Could we even see The Fight of The Year on May 6?