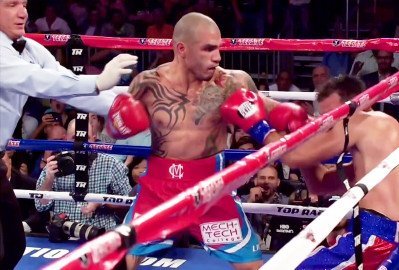 WBC middleweight champion Miguel Cotto (39-4, 32 KOs) is meeting with his adviser Gabriel Peñagarícano to pick out Cotto's next opponent for his December 13th fight at Madison Square Garden in New York, according to laopinion.com.
Neither of them is saying who the guys are they're picking from, but they're rumored to be Tim Bradley, Andy Lee and possibly Marco Antonio Rubio if he pulls off an upset in his title shot against WBA middleweight champion Gennady Golovkin on October 18th.
Cotto and his adviser hasn't said anything about wanting to fight Golovkin or Saul "Canelo" Alvarez for the December 13th fight date so you've got to conclude that neither of them are realistic options for Cotto at this time.
Cotto's trainer Freddie Roach said to IFL TV that Golovkin brings nothing to the table because he's not a pay-per-view draw, and that he doesn't have the experience necessary to share the ring with Cotto.
Of course, Cotto's next fight on December 13th isn't scheduled to be a PPV fight anyway, so that kind of destroys Roach's who rationale for Cotto not having to fight Golovkin. If Cotto is matched with Andy Lee, who isn't a pay-per-view fighter either, it also will knock a hole through Roach's reasons for not wanting to let Cotto fight Golovkin.
"We are already starting conversations. Now, we cannot say no. We are analyzing the preferences there for December," said Gabriel Peñagarícano, to laopinion.
If Cotto picks Tim Bradley from the welterweight division, it's going to make Cotto look like he's cherry picking opponents. Bradley would be moving up two entire divisions to fight Cotto. Top Rank promoter Bob Arum is interested in making a Cotto-Bradley fight, but it would be at a catch-weight of below 160.
We could see a catch-weight of 155-156 pounds for a fight between the two of them. It'll look bad if Cotto is fighting smaller guys at a catch-weight instead of at the full weight for the division. There's talk that Cotto's fight against Saul "Canelo" Alvarez next year could wind up being a catch-weight fight at 155. If Cotto is going to be defending his WBC middleweight title at catch-weights just above the junior middleweight division, it's going to leave the impression to some that he's the WBC champ in name only.