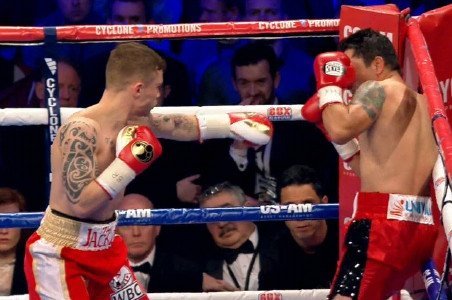 WBC super bantamweight champion Leo Santa Cruz has no doubts in his mind that unbeaten #2 IBF Carl Frampton (18-0, 13 KOs) will come out on top in his title challenge against IBF 122 pound champion Kiko Martinez (31-4, 23 KOs) in their rematch next month on September 6th at the Titanic Quarter in Belfast, Northern Ireland.
It's actually not that hard for Santa Cruz to pick Frampton as the winner in this fight, because Frampton stopped Martinez in the 9th round in their fight last year in February. It's not that Frampton can punch any harder than Martinez can. It's more of a case that he's able to take advantage of the way that Martinez leaves himself open when he's attacking his opponents.
Martinez is so aggressive with his attacks, he tends to forget all about his defense and this makes him vulnerable to big punchers like Frampton. Martinez appears to be the far better puncher than Frampton, but like I said, he leaves himself open and makes gives away his power advantage that he has.
"I think Frampton wins that fight and he will become the IBF king," Santa Cruz said via newsletter.co.uk. "It will be a hard fight, maybe even 50/50 but I think Frampton is better and he will beat Martinez. I am prepared to come to Europe and face Frampton, Martinez or Scott Quigg – but I leave all that to my manager and promoter."
Santa Cruz says he'd like to face the winner of the Frampton-Martinez fight in a unification match. However, it's difficult to know how serious Santa Cruz is about wanting to take the winner of that fight, because he's all over the place in talking about wanting to fight Guillermo Rigondeaux and Scott Quigg.
Santa Cruz does a lot of talking, but you look at the guys he's facing it tells you a different story. Santa Cruz will be fighting next month on September 13th against a struggling bantamweight named Manuel Roman. It's a mismatch for Santa Cruz, and an opponent far below the guys that Martinez and Frampton have recently faced.
"Training has been going very well and I will be ready for September 6," Frampton said. "I am on the verge of mega fights and Kiko is not derailing that."
The mega-fights that Frampton is talking about are likely against Scott Quigg, the WBA super bantamweight champion. Frampton hasn't shown a lot of interest in facing WBA/WBO super bantamweight champion Guillermo Rigondeaux, the fighter that many boxing fans see as by far the No.1 fighter in the division. As good as Frampton is, Rigondeaux is light years better than him.