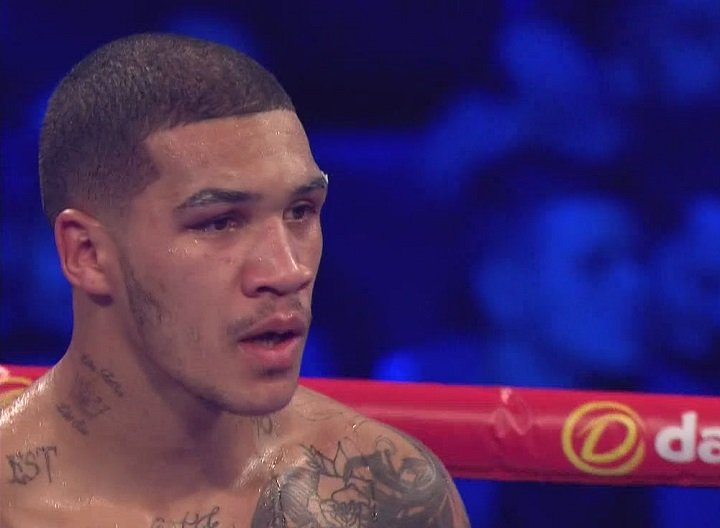 Talk about a supporting bout stealing the show! Last night at The York Hall in the heart of London, welterweights Conor Benn and Cedrick Peynaud showed plenty of heart as they went to war over six breathtaking rounds; the pair each knocking the other down twice for a four-knockdown thriller.
In the end, unbeaten Benn – son of course of Nigel Benn, arguably the single most exciting fighter to have come out of the UK in the last thirty years or so – remained unbeaten with a decision win: the score being 57-54. Still, the 31 year old fighter from Paris, France, 5-5-3(3) who has never been stopped sure gave Benn a huge scare, and some fans felt the fight could easily have been scored as a draw.
Twice in the opening session, Benn was sent to the canvas, hurt and coming oh, so close to being derailed from his position as one of the hottest unbeaten prospects in the UK today. Peynaud, an unknown quantity coming into last night's fight that was on the under-card of Katie Taylor against Jessica McCaskill, sure has a name now.
The two battled on with plenty of exchanges, and it was a war that either fighter might win – at any time. Benn, having just his 11th pro fight (all wins, 8 by KO) showed real fighting heart, coming back as he did to deck the visiting fighter twice himself; in the fifth and sixth rounds. Today, sporting two badly swollen eyes, both almost hammered shut, 21 year old Benn is receiving praise for the courage and sheer guts he showed, but also criticism for being dragged into such a tough fight by a relative nobody (no disrespect intended towards Peynaud).
Benn's father, "The Dark Destroyer" himself, watched the fight – likely with his heart in his mouth – and he says that though his son was "reckless," he can still win a world title.
"What I like about my son is he's got guts," Benn told Sky Sports the morning after the war. "If he had lost it would only have been because he was jaded. That was it. Sometimes you get in there and you just get slack. We know he's got heart. He was against a big guy who was 31 [years old] and had come to fight. Even if he was reckless, I liked the way he came through and I know he will go all the way."
Benn Snr also says his son tried too hard to become the first man to halt the Frenchman; hence his recklessness. On the plus side, Benn showed heart, he is a truly exciting warrior and he sends fans home happy. On the down side, Benn was arguably exposed by another fighter who, though no novice, is far from being an elite fighter.
Still, Benn is only 21 years old and he can take pride in the fact that he gave us all one hell of a fight last night. Maybe, just maybe, this one will win The British Fight of The Year award.
If you haven't seen it, have a look now via You Tube.