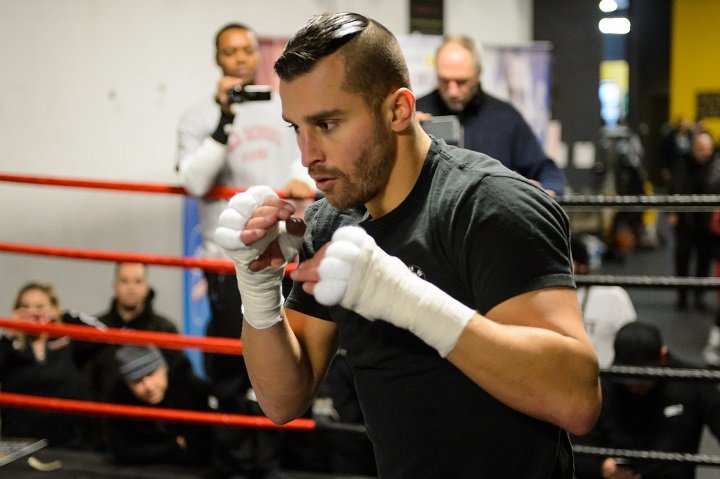 Canadian contender David Lemieux is looking to take Billy Joe Saunders to task this Saturday in his hometown, and tells his opponent that he's going give him the hardest 12 rounds in his career, live on BT Sport 2 HD and BoxNation.
Speaking on a media call on Monday, the Montreal native says he's more than prepared to give Saunders hell in the ring to make sure he takes home the title.
"He has a very, very aggressive Lemieux on his back, and I'm going to be ready. I'm extremely prepared for this fight. So, it's not going to be easy for him. It's actually going to be hell for him.
"I'm more excited, actually, just to lay my hands on Billy Joe Saunders more than anything else. He's got a big mouth. It's rare I see fighters with such a big mouth. I just hope his fighting is going to come as close as his mouth on Saturday night," he added.
Lemieux has been on a roll of late, clocking four consecutive wins, including two knockouts, against Glen Tapia, Cristian Rios, Curtis Stevens and Marcos Reyes. He's a known heavy hitter, which means traditional boxer Saunders will be weary of the dangerous Canadian.
"I'm here to knock him out. I'm here to destroy him every round. It's 12 rounds. It's unfortunate for him, but I'm ready for 12 big rounds. I'm excited for this fight to give the fans their money's worth and finish the year with a new WBO Title.
"I'm going to make him pay in the ring," warned Lemieux. "All this animosity is going to come out in the ring. If he thinks he can run away for 12 rounds, he's in a lot of trouble."
Following a loss to Gennady Golovkin in 2015, the challenger is adamant that he is a different fighter than he was two years ago, and that it would be a different story if the two were to meet in the ring again.
"I'm a whole different guy than I am facing Golovkin. I'm a whole different guy. You put Golovkin back in front of me, and it's going to be a whole different scenario," he added.
Watch Saunders vs. Lemieux live on BT Sport 2 HD and BoxNation from 2.00am this Sunday.
###
Golden Boy Promotions and Eye of the Tiger Management, in association with Frank Warren and Vidéotron, today hosted a media workout for the upcoming WBO Middleweight World Championship fight between Billy Joe Saunders (25-0, 12 KOs) and David Lemieux (38-3, 33 KOs), set to take place this Saturday, Dec. 16 at Place Bell in Laval, Quebec, Canada. The evening's co-main event will feature Antoine "Action" Douglas (22-1-1, 16 KOs) against Gary "Spike" O'Sullivan (26-2, 18 KOs) for the WBO Intercontinental Middleweight title while Cletus "Hebrew Hammer" Seldin (21-0, 17 KOs) will face off against Yves Ulysse, Jr. (14-1, 9 KOs) in the opener of the HBO World Championship Boxing event that will kick off live at 9:40 pm ET/PT.
(Photo credit: Vincent Ethier / Eye of the Tiger Management)
Here is what the participants had to say at today's media workout:
BILLY JOE SAUNDERS, WBO Middleweight World Champion:
"I'm used to fight outside the UK, I'm a traveler of the world. I don't care if there's a million people. It's just me and him in that ring, end of the story. As for the rest, I don't care.
"David has no chance of winning, and I'm convinced that he will not make the distance against me. I'm willing to bet part of my purse to charity if I lose and the winner will choose which charity to give it to. I'm not here for the money or anything like that, I'm here to make a statement. There's no point in talking anymore, all that matters now is what happens on Saturday."
DAVID LEMIEUX, Former IBF Middleweight World Champion:
"I've never said that I doubted his chin. Regardless he will hit the floor. And whether I win by knock out or go 12 rounds, it's no matter. But I will drop him and I will hurt him.
"There are a lot of fans in England who've written to me because they don't like Saunders, and they want me to get rid of him. I'll do everyone a favor, I'll take care of him."
ANTOINE DOUGLAS, Middleweight Contender:
"I'm very exited to have the opportunity to fight on HBO. I had a very strong camp, moved up to Jersey with my team. I'm prepared to fight 10 explosive rounds and give fans in Canada a show to remember."
GARY O'SULLIVAN, Former WBC International Silver Super Lightweight Champion and Middleweight Contender:
"It's absolutely fantastic to fight here on HBO! It's a very big opportunity, and it's nice to be here. To me, fighting out of town makes no difference because I fought most of my career out of town – the US, the UK, and I come from Ireland."
CLETUS SELDIN, Super Lightweight Contender:
"I'm nice outside the ring but once I'm inside the ring, I become an animal that I can't even contain. I don't come to score points but to do damage and hurt, and that's the difference between me and Ulysse, Jr. My trainer and I have studied Yves Ulysse, Jr. and we know he is a solid boxer-puncher who fights with intensity and angles. He can try to dance like Sugar Ray Leonard but he is not Leonard. His strategy will not work against me, I'm very excited about being able to get back on the ring quickly and it's an honor to be part of such a big event."
YVES ULYSSE, JR., Super Lightweight Contender:
"He's a high-calibre fighter, it's gonna make a great show! I know that this fight will bring out my character, what kind of person I am. Every time I've faced obstacles, I've always responded with strength. I will do it again."