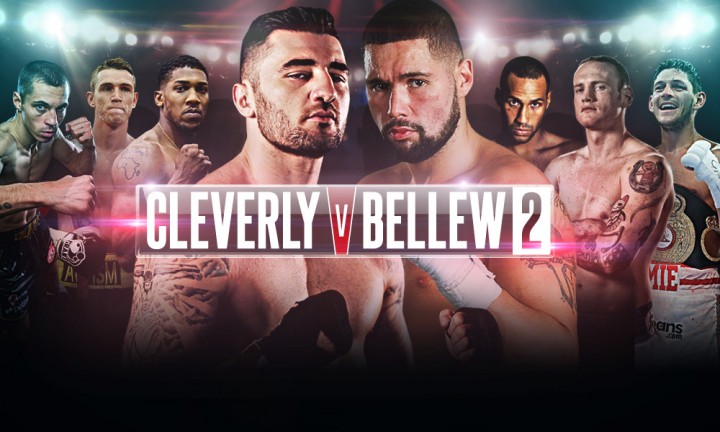 The talk, the hype, the bravado, it all stops today for Nathan Cleverly and Tony Bellew as the time to set the record straight finally arrives. The magnitude of the occasion will have dawned on the fighters the moment they opened their eyes; failure is not an option at this stage of either career. And, if the weigh-in is anything to go by no stone has been left unturned, both men looked great tipping the scales at 14st 3lbs, ready to deliver as they did 3 and half years ago.
That seems a long time to sustain such a bitter rolling feud, but the maintenance of such a rivalry pays off in spades. In this case landing what is essentially a fringe world level grudge match between two novice cruiserweights on Pay Per View at the picturesque Liverpool Echo Arena, which sold out 10,000+ tickets in 48 hours. You just can't argue with the figures, hatred sells and the fans have bought it, it's now down to the fighters to deliver. If they don't, Eddie Hearn might just have to face some difficult questions on the future of Sky Box Office events.
I won't be complaining this is a pick-em fight a real 50/50 that has split the boxing in crowd and fans alike straight down the middle. In these circumstances it is hard to grumble, when you consider what American audiences are expected to shell out on fights whereby the result is understood before the purchase button is pressed, such as Mayweather v Maidana II.
From the moment the rematch was muted at Cruiserweight I felt Tony Bellew (22-2-1 14KO's) would be too much for Nathan Cleverly (28-1 14KO's) at the 14st 4lbs limit and amidst all the bluster I have not changed my opinion. Fundamentally, the extra 25lbs just suits the 3-time ABA Heavyweight champion, which he displayed clearly in his two outings thus far in the higher weight class. The most notable of which was his 12th round knockout of the decent Russian Valery Brudov. Bellew proving he retained his knockout power down the stretch, which was beyond him when in decent company at Light Heavyweight.
Cleverly on the other hand has opened with a couple of routine victories over modest opposition in the form of veteran Shawn Corbin and the overmatched Alejandro Emiliano Valori. The Welshman looks physically fantastic, but he is reaching for the weight rather than making a natural arrival, to see him possess the level of fitness and speed he benefitted from at Light Heavyweight seems a stretch in this form for the man who originally campaigned as a Welterweight.
When these two men met for the first time in 2011 they were on two very different plains. Cleverly was a World Champion with designs on a unification bout with Bernard Hopkins and Bellew a 16-fight novice utilising his ability to antagonise coupled with opportunism to earn an undeserved World Title tilt. What resulted was the fight of the young Welshman's career and one that he could easily have lost. In 2014 the field is set even, both as seasoned as the next and I feel this will ultimately be the decisive factor.
For all the boastful claims of sickening knockouts on the part of Bellew and speed kills claims from Cleverly, I expect this fight stylistically to follow a similar pattern to the first. Where they will be separated will be their ability to execute, I can't help but feel that Cleverly will have traded in some of his previous fluidity and tireless work rate for bulk, providing Bellew with a easier target to hit, which is troubling for a fighter whose chin has not been tested since he was demolished by Sergei Kovalev.
I'm taking Bellew to win a unanimous decision, Cleverly is tougher than his last defeat would suggest and Tony Bellew is no Sergei Kovalev by any stretch of the imagination. However, this is Bellew's natural division and his increased experience this time around will prove telling.