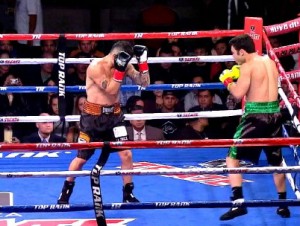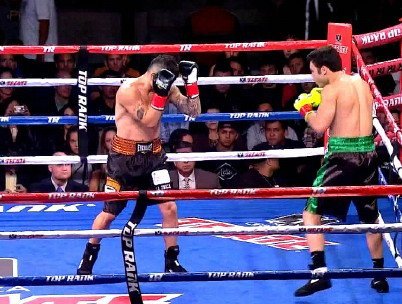 Well tonight we didn't see just one oddball score from a judge; we saw three of them with Julio Cesar Chavez Jr. (47-1-1, 32 KO's) winning a controversial 10 round unanimous decision against a much smaller Brian Vera (23-7, 14 KO's) on Saturday night at the StubHub Center in Carson, California.
I'm not sure which fight the three judges were watching because I had Vera winning the fight by 4 rounds. The three judges had the fight scored 96-94, 97-93 and 98-92.
I'm still trying to figure out how two of the judges had Chavez Jr. winning 97-93 and 98-92. With the way that Chavez Jr. was getting outworked all fight long, I don't see how he could have won all those rounds.
Vera did a good job of backing Chavez Jr. up in every round, and nailing him with combinations to the body and the head. Chavez Jr. was bothered by the body shots, and looked to the referee on more than one occasion to complain about what he felt were low blows. They weren't low.
Vera was landing right on Chavez Jr's belt line with perfectly placed shots. Those punches seemed to bother Chavez Jr. a lot more than the ones he was taking to the head. That's not to say that he didn't take punishment to the head, because Chavez Jr. definitely looked battered after the fight. Both of his eyes were swollen up, and he looked more like the loser than the winner of the fight.
Chavez Jr. did have his moments in the fight. He hurt Vera in the 7th and 8th rounds with big left hooks to the head. Chavez Jr. landed a high percentage of his punches, but the fact that he wasn't throwing very many punches made it difficult to give him rounds.
Being so much bigger than Vera, when Chavez Jr. would land, it was like watching a cruiserweight hit a middleweight. Chavez Jr. was huge, and he looked giant next to Vera. I'm not sure what Chavez Jr's weight was tonight, but he looked like a cruiserweight or a mini-heavyweight.
Other boxing results on the card:
Diego Magdaleno UD 10 Edgar Riovalle
Karim Mayfield KO 8 Christopher Fernandez
Matt Korobov UD 8 Grady Brewer
Daniel Sandoval UD 8 Richard Gutierrez
Gabino Saenz TKO 1 Dominic Coca