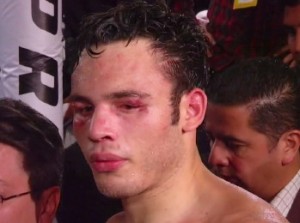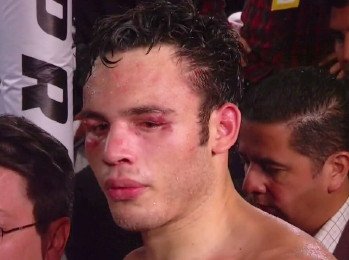 If you were hoping that Julio Cesar Chavez Jr. (47-1-1, 32 KO's) would give Brian Vera (23-7, 14 KO's) a rematch to shut down the criticism he's receiving from fans over his debatable 10 round unanimous decision last Saturday night, you can forget it. Chavez Jr. has ruled out giving Vera a rematch. Instead, Chavez Jr. plans on moving forward with his career and will be looking for a title shot in his next fight, which he hopes will take place at 168.
Chavez Jr. won the fight by the scores 98-92, 96-94 and 97-93. One judge had Chavez Jr. winning the first 7 rounds of the fight, and that would seem like an impossibility considering that Vera clearly got the better of Chavez Jr. in at least 5 of the first 7 rounds.
Chavez Jr. said after the fight as quoted by Dan Rafael "I don't think this fight deserves a rematch. I am moving to bigger fights."

If Chavez Jr. wants to move on from this controversial decision, then it's only going to hurt him because a fight like this is something that a fighter has to clear up if they want to keep their fan base. When a fighter is given a controversial decision win that the boxing public disagrees with, it's actually in their best interest to face that opponent again to prove to fans that they're a better fighter. Chavez Jr. may not care, but he should because he might have lost a lot of fans last night from this bout.
The judges clearly didn't do Chavez Jr. any favors by giving him the victory because the boxing public has invalidated what the judges did in giving him the victory. In essence, Chavez Jr. was given an empty victory by the three judges, and he might as have been given a loss as far as the boxing public is concerned. That's why it's important that Chavez Jr. fight Vera again to erase the stain of this so-called win.
If Chavez Jr. does opt to fight for a world title at 168 in his next fight then it's pretty obvious that he'll go after the WBC title held by Sakio Bika. Chavez Jr. already has a good relationship with the World Boxing Council president Jose Sulaiman, so fighting for the WBC 168 lb. title against Bika would seem like the logical choice for Chavez Jr. It would make him a paper champion if he won, similar to how he was considered a paper champion by many fans when he held the WBC 160 lb. title. Chavez Jr. probably won't choose to fight WBA super middleweight champ Andre Ward or IBF/WBA champ Carl Froch, because those are solid fighters and not flawed enough for a fighter like Chavez Jr. to beat them.