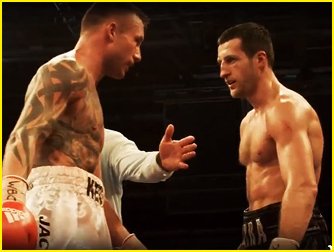 When Carl 'The Cobra' Froch (30-2, 22 KOs) squares off against 'Viking Warrior' Mikkel Kessler (46-2, 35 KOs) for the second time this Saturday, it will have been more than three years since their first grueling encounter in Group Stage 2 of the Super Six Boxing Classic. That contest unquestionably represented the most compelling and entertaining match-up in the entire super middleweight tournament, and there is good reason to believe the rematch will be an equally competitive battle that rivals, or perhaps even surpasses, the original. Froch and Kessler are still both universally recognized as two of the very best 168 pound boxers in the world, just as they were on April 24, 2010 when Kessler was awarded a hard fought unanimous decision on his home turf in Denmark. What can we expect this time from these two proven warriors? Will 'The Cobra' strike the Dane with a lethal bite, or will 'The Viking' savagely slay the serpent?
Carl Froch has fought five times since he faced Kessler, going 4-1 during that stretch, while Mikkel has won all three of his bouts. Of course the lone loss suffered by Froch was at the hands of Andre Ward, who is widely viewed as an elite pound-for-pound talent on par with Floyd Mayweather Junior. No shame there. Kessler himself was soundly beaten by Ward previously. The fact that Froch bounced back from the loss with an impressive brutal knockout against Lucian Bute holds far greater importance when searching for clues to explore that might give us some indication of what to expect on Saturday. After all, 'The Cobra' has always been a boxer whose determination and self-belief were key attributes that contributed to his continued success. Since Froch was able to follow-up such a demoralizing loss with two back-to-back spectacular KO victories, it suggests his confidence may be at an all-time high, or at the very least, certainly far better than it was following his somewhat disputed victory against Andre Dirrell.
More importantly for Froch, he has actually matured as a fighter and become a more complete boxer. The evidence for this was on full display throughout The Super Six, culminating with a shutout win over Arthur Abraham and a workmanlike victory against Glen Johnson. Even since the Ward loss, Froch has still continued showing subtle improvement in his fight game and an increased ring IQ. For instance, Carl has recently done a much better job maintaining the proper distance and establishing optimal punching range. He also seems to have shortened his punches up a little bit, which allows him to reach his targets more quickly and get off more shots. His combination punching and body attacks have both exhibited a bit more variation and fluidity. Additionally, Froch has gotten better at setting traps and maneuvering foes into vulnerable positions that he is fast to exploit. Froch will never become as versatile as a Hopkins or as adaptable as a Ward, but the things he can do he tends to do very well. Not only that, but he continues to polish and refine his existing skills and abilities in ways that only seem to enhance his overall performance and effectiveness.
Mikkel Kessler's path to this rematch has been drastically different than Froch's. For starters, even though Mikkel beat Carl, it was Froch who advanced all the way to the Finals in the Super Six. Kessler was ultimately forced to withdraw from the tournament because of an aggravated eye injury against 'The Cobra'. This put Kessler on the shelf for more than a year. Then after beating Mehdi Bouadla by sixth round technical knockout, Kessler suffered a hand injury in a subsequent training camp that would basically keep him out of the ring for almost another full year. When Kessler again returned, he had a scary moment against Allan Green when he was sent crashing down to the canvas late in the first round, which he finished on shaky legs. To his credit, Kessler persevered and came back to score a chilling fourth round KO against Green, compliments of a well placed crisp left hook. Still, he looked a little vulnerable.
Kessler remains a powerful puncher with a great jab and a good one-two, but he appears to have suffered a lot more wear and tear than Froch, despite being almost two years younger. But Kessler is still a seasoned veteran and a master of command pertaining to his own tools and strengths. Therefore, it would not necessarily be fair to say that this fight represents two boxers moving in opposite directions, but to a large extent it is actually true. Froch seems fresh and has gotten a bit better, whereas Kessler appears more fragile and in slight decline. The fact that this time around, Froch is the one who will be afforded the benefit of home turf advantage makes Mikkel's prospects even more daunting.
All of that being said, Kessler did win the first time around and he needs to execute with at least the same type of intensity and efficiency this time if he wants to give himself his best shot at winning again—that means establishing his jab, working the body as early and often as possible, and finding ways to properly time the right hand with varying angles and deliveries to prevent Froch from anticipating and adjusting. Kessler also needs to capitalize whenever Froch leaves himself open for left hooks, both upstairs and down. On the flip-side, Froch needs to use his superior overall boxing ability to control the range and prevent Kessler from finding any type of rhythm with his jab. One way for Froch to accomplish this is by making use of his own jab, but he also needs to create angles, to confuse and frustrate 'The Viking'—this means using his feet and mixing up the spacing. Froch can, and inevitably will at times, stand his ground and engage in close quarters and mid range. How selective he is in doing so, however, may well determine the outcome in this one. He needs to disrupt Kessler's methodical linear style, and this requires ring smarts and generalship.
In conclusion, the recent improvements we have seen in 'The Cobra' may not be enough for him to have greater success in a return bout against Andre Ward, but they should aid him a great deal in his rematch against the slightly faded Mikkel Kessler. This should be close and competitive, and will probably contain a great deal of fireworks and momentum shifts along the way. We know that the chemistry of this particular clash of styles has produced one great fight already, and styles do make fights. At the end of the day, however, even though their first fight was extremely tight and combative: Froch has gotten a little better since then, and Kessler has never looked quite the same since.
OFFICIAL PREDICTION: Carl Froch TKO11 Mikkel Kessler
*****
To read more by Geoffrey Ciani you can visit Ciani's Corner:
www.cianiboxing.com
To contact Ciani:
ciani@boxing247.com