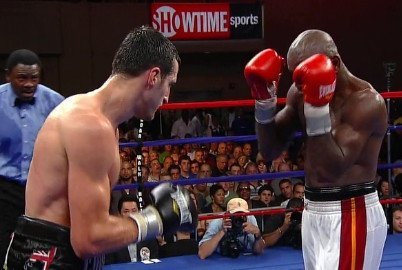 By Michael Collins: IBF super middleweight champion Carl Froch (29-2, 21 KO's) will be taking on a soft opponent for his next fight against recent Tavoris Cloud knockout victim light heavyweight Yusaf Mack (31-4-2, 17 KO's) in a scheduled 12 round bout on November 17th at the Capital FM Arena in Nottingham, UK. The fight doesn't really make a lot of sense because Mack has already been knocked out by Glen Johnson in 2010, a fighter that Froch already beat in the Super Six tournament. It just looks like a mismatch.
Mack, 6'1″, will have to drop down from light heavyweight to make the fight with the 35-year-old Froch and you can imagine that Mack will be weakened from the process of making weight. It's already a mismatch going in but when you add to that Mack having to take off weight to get down to the 168 lb limit then you're really talking mismatch.
Froch's promoter Eddie Hearn from Matchroom Sport did his best to try and hype Mack as an opponent, saying to Sky Sports News "He's got nothing to lose coming here to face me and I know he'll put it all on the line to take the title from me so I'll be fully prepared for everything he's got and I'll be hitting him with all my best."
"Nothing left to lose" sounds like code to me to mean Mack only has a puncher's chance in this fight. In other words, this is a mismatch.
Mack can punch a little, but he has problems taking big shots as we saw in his losses to Johnson, Cloud, Librado Andrade and Alexandro Berrio. All were knockout losses for Mack. The Berrio fight was interesting in that Berrio kissed Mack on the head moments before Mack hit the canvas. I've never seen that before or since.
Froch fans feel that he has an easy title defense like this coming after having battled hard in the Super Six tournament and recently beating IBF super middleweight champion Lucian Bute last May. I don't see it that way. I think all fighters should follow the path of someone like Floyd Mayweather Jr, who always looks for the biggest fight possible with every bout. He doesn't take stay busy fights or title milking bouts because he's looking out for the boxing public who pay to see his fights. That's how all fighters should be, especially when they hold major world titles like Froch. Who wants to pay to see a mismatch?