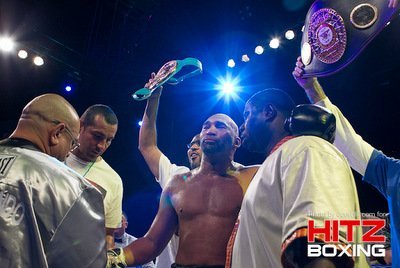 By Pavel Yakovlev, photo by Joey Hill – Heavyweight contenders can sigh with relief…at least for a while. Fres Oquendo is out of action for six weeks due to a broken right hand. The injury occurred during the Boricua Bomber's seventh round stoppage of Robert Hawkins last week. In the third round, Oquendo landed numerous crunching rights, twice flooring the brick-chinned Hawkins and nearly ending the fight. But by the end of the round, Oquendo's right was throbbing with pain. The next day, an orthopedist confirmed what Oquendo and his cornermen suspected: that the hand was broken.
"My hand was in excruciating pain. I felt it for the whole fight after the third," said Oquendo. "But I didn't tell anyone. I just wanted to get the job done." Oquendo compensated for the injury by switching his attack to the body, even though he continued to fire rights to the head. Oquendo's manager Tom Tsatas explained, "Fres didn't let up despite the pain. He knew Hawkins has a hard head, so he started driving both hands to the body. It worked."
Afterwards in the locker room, Oquendo soaked his right in a bucket of ice for two hours. The hand is now encased in a plaster cast, and the fighter is scheduled to undergo additional treatment to heal the fractured bone. According to Oquendo, "My doctor said the bone will be even stronger once it heals, harder than before." Oquendo's recovery is expected to take six weeks, and his next fight is planned for November.
Does Oquendo's tigerish performance signal that he is changing his style? Although he carries respectable power in both hands, Oquendo is primarily a speedy jabber and a technical boxer. He prefers to wait for openings before uncorking his KO shots, and avoids slugging tactics. But Oquendo has dropped many controversial decisions in the past. Boxing pundits argue that the Puerto Rican heavyweight might have clinched those verdicts if only he traded punches and backed his opponents up.
But Oquendo and Tsatas insist that there are no stylistic changes in process. "We talked about this with Angelo Dundee a while back," related Tsatas. "Angelo said we've got to let Fres be what he will be in the ring, to fight his fight. It wouldn't make sense to change his style." When asked if his aggression reflected a fundamental change in ring tactics, Oquendo replied, "No, not at all. I just did what I've always been ready to do."
Currently 14 th in the WBA ratings, Oquendo, aged 38 and with many years of experience under his belt, is once again an upwardly mobile heavyweight. Tsatas is explicit in stating Team Oquendo's goal. "I wish someone would ask the Klitschkos why they won't fight Fres," he insists. "Fres is better than the guys the Klitschkos are fighting, but we never hear his name in mix. Fres deserves a title shot."