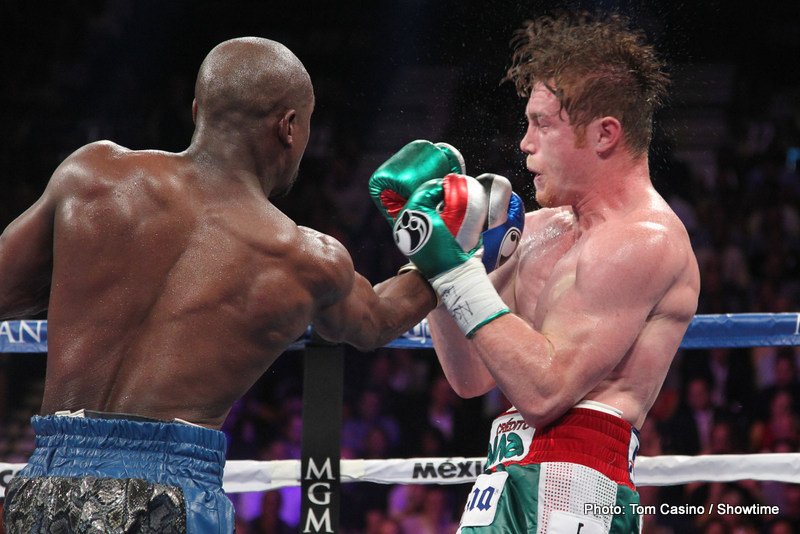 As he gears up for the biggest fight of his career, Mexican star Saul Canelo Alvarez is thinking, at least a little, about the second biggest bout of his career – the one he lost to Floyd Mayweather. Canelo, in being quoted by The Star, says he is not exactly obsessing over Mayweather and getting "Money" back in the ring with him, but he says a rematch is definitely something he would like.
As fans know, Mayweather put on a sensational, nearly flawless display in September of 2013, outboxing the 23 year old and taking his unbeaten record from him. Canelo may have looked like the epitome of a crushed fighter spiritually that night, or rather he did at the end of it, but he would love to face Mayweather again. Canelo says he learnt a lot from the 12 round defeat.
"It would be good," Canelo said of a possible rematch with the only man to have defeated him. "That is a thorn I have and I would like to take that thorn out. But it's not an obsession. If it happens, great. If it doesn't, that is okay, too. Was I too young [when I fought Mayweather]? Most definitely. It showed but what I won out of that was the experience. I learned a lot from that fight. I don't take it today as a defeat, I take it as an experience."
But is there any chance, even a slim one, that Mayweather, who announced his retirement after his big-money win over Conor McGregor, will be tempted to go for one more at the age of 41 (which Floyd turns in February)? Already there are plenty of fight fans suggesting Mayweather will come back and go for the ultimate: the world middleweight crown – providing Canelo beats GGG tomorrow night (which as we know is by absolutely no means anything close to a certainty).
It is possible Mayweather, a man who so utterly loves money, will get tempted to return, if another $100 million payday is offered, and let's face it, Mayweather has beaten Canelo once, why wouldn't he feel he would do so again? But there were in the opinion of some, signs of slippage in the McGregor fight, and against a now matured, arguably peaking Canelo, up at middleweight, Mayweather would really be taking the ultimate risk in what would be his 51st fight.
We'd all like to see Mayweather-Canelo II, and Canelo, as he says, would like it. But at the same time, nobody is exactly obsessing over a rematch. Not even Canelo.