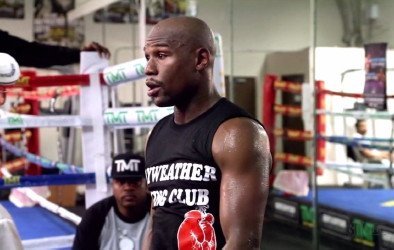 WBA/WBC junior middleweight champion Saul "Canelo" Alvarez hasn't fought at 147 in the 11 fights dating back to his win over a tiny Jose Miguel Cotto back in May of 2010, but if Canelo wants a fight against Floyd Mayweather Jr. then he's going to have to find a way back down to that weight because that's what he's going to have to do in order to get the big payday fight he's been harping about for ages.
Let's be honest about this; Canelo needs Mayweather much more than Mayweather needs Canelo. Mayweather is going to get his $30 million each fight no matter who faces him in his next five fights. Mayweather's got that guaranteed cash, and besides that he's already a huge, huge draw. He's the #1 money fighter in all of sports.
In contrast, Canelo hasn't yet headlined his own pay per view card yet, and there are huge questions whether he can draw outside of his own fan base. Canelo needs the fight against Mayweather to become a big star in his own right in the same way that Mayweather needed a fight against Oscar De La Hoya six years ago to become a PPV attraction.
Mayweather holds all the power here, and Canelo is just going to have to agree to whatever Mayweather wants, starting with him coming down to 147 to make the fight happen. If Canelo doesn't want to do that then he's going to have to do without the Mayweather fight and look to fight Miguel Cotto in September instead.
I think Cotto is a poor substitute for Mayweather right now at this point in Cotto's career. He's lost his last two fights and it's been a lot since he won a real big fight. I don't count Cotto's win over Antonio Margarito in their rematch in 2011 as being a big win because Margarito's surgically repaired right eye immediately started giving him problems in that fight, and it wasn't a prime Margarito.
Right now, Canelo has no bargaining power at all with Mayweather.
If Mayweather wants 147, then Canelo is going to have to agree to it. The same thing with the money split. I'm sure Canelo wants top dollar for the fight, but I think he'll be lucky if he gets an 80-20 split.
No way will Canelo get a 60-40 split of the cash. He doesn't have the name and his only experience against quality opposition was his win over Austin Trout recently and everything about that fight has you shaking your head due to the bizarre scores the judges came up with and the open scoring that hurt Trout and helped Canelo, who has stamina problems.