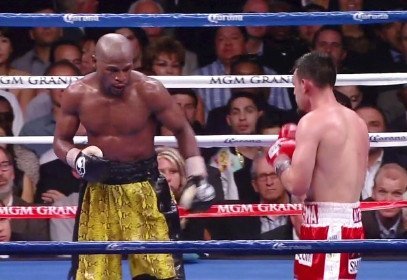 Curtis M. (Orlando, FL): Deontay Wilder seems to be catching steam, and lately there's been talk of him facing Wladimir Klitschko. Do you give him a shot at winning if the fight were to happen within the next year or so?
Vivek W. (ESB): Wilder is one of the hottest rising prospects in the heavyweight landscape today. He has power, decent speed, and a little personality to sell himself. That being said, I have very mixed emotions on his chances if he were to face Wladimir Klitschko. I'm always very skeptical about fighters who enter the ring with so much knockout success in the past. Particularly young fighters on the rise. There's always an untold story. In this case, I have the same questions. What happens when he faces someone who he can't hurt, that also possess the power to hurt, and potentially even stop him?
How does he handle a slug-fest going deep into the fight where he just can't seem to hurt that guy across from him? Does he go the path of Cintron, who suddenly lost confidence at points when he couldn't hurt his opponent? Does he go the path of Foreman, who had enough ability to overcome not being able to stop his opponent, by softening them up enough to potentially get the stoppage later? We just don't know. But what we do know is that Wladi-K will be there for the duration, and he won't be bothered by Wilder's previous knockouts over clearly inferior opposition. I'm very curious to see what Wilder does against someone like Chisora.
Chisora will test him very strongly. Chisora has a chin and decent power, and he has a ton of heart, if nothing else. This will be a very good gauge for Wilder. If Wilder can grind it out and stop Chisora mid-rounds, or even get in some work and manage to stop him late…..this will tell me that he's on the right path. As of now, I'm not too sold on his chances. He'll need to get some more rounds and face some better competition. He's never been past the 5th round in 28 pro fights. I need to see more before declaring him a man with a shot. If he defeats Chisora, personally, I'd be more interested in seeing him face the man who recently did the same – whom also has a ton to prove in the sport (David Haye). Just my opinion…..
Artis H. (Philly, PA): I read your post on Friday morning about Mayweather/Guerrero doing upwards of 1M PPV buys. Considering that Guerrero is relatively unknown, what do you attribute mostly to the success of the PPV card?
Vivek W. (ESB): Two things: Very solid promotion and the villain affect of Mayweather. Goldenboy CEO, Richard Schafer, made a very good point about his observation of the sold out MGM Grand when he said (paraphrased) there weren't a ton of Mexican flags or hardcore Mexican fanatics like we've seen with Marquez and others on fight night. His point was that there were more mainstream fans than simply a dedicated corp of countryman in the house to root on their native guy. Very good point. There was Mexican pride, but there was also a ton of non-partisan fight fans who simply came to be entertained.
Guerrero had never truly been on a PPV card and technically, wasn't a very intricate draw at all. I think recognition of his name could happen going forward. But prior to the fight, he simply wasn't a highly notable name in the sport. I think you really have to credit Floyd Mayweather and those around him. A list which not only includes Team Mayweather and "The Money Team", but more importantly, Goldenboy Promotions, Showtime, and CBS. From "All Access", to the CBS television special, to "30 Days" documentary, and beyond. They truly did a very strong job marketing this fight, and the effects touched even a small boxing market like Miami, where the local radio shows flooded the airwaves with talk about the fight leading up to it.
What struck me the most is the sheer thought of the fact that if Mayweather could strike these type of numbers against a relatively unknown commodity, the right dancing partner could very well see him thrash an already nearly impossible to beat PPV record of 2.4M homes he enjoyed against the likes of Oscar (Dela Hoya). Right now, Mayweather has the public right where he wants them. Which is somewhere in the land of high opinion. No matter which it is…..everyone has an opinion of him. They either love him or hate him. But they all know him. I'm not a big fan of many of his antics, but I've never mastered the art of becoming a multi-millionaire, either, so I can't say his formula is wrong. Hate to say this, but why change it now? It has proven effective. #Cha-Ching!!!
Celan J. (Queens, NYC): I've never seen a fighter come back and look to be in top form after being stopped like Pacquiao was. Prior to the Marquez stoppage I would have liked him against Rios. Now, I'm not so sure. How do you see the fight playing out?
Vivek W. (ESB): You have to remember, (if my memory serves me correctly), Pacqiuao was actually ahead when Marquez iced him. If he wasn't, it was awfully close. That being said, I don't know how much that will have to do with what we see from him nearly a year later, and after suffering such a humbling loss. Beyond that, what really makes me question his chances is what happened before the stoppage. When was the last time we saw Pacquiao touch the deck at all? Considering that he was changed enough to touch the deck in that fight to begin with was an element that made me wonder a little. When you add an actual stoppage…..a face first stoppage in the same fight…..I really think we have a changed man in front of us, and not for the better.
I just don't see how Pacquiao can ever truly be the same. Rios isn't as good a technical fighter as Marquez, but he brings just as much heart and a workrate that just won't quit! The kid is a vintage "stalk-til-they-can't-walk" type fighter if I've ever seen one. I absolutely love his heart. And the fact that he's coming off a loss means very little. I don't want to feed into the conspiracy theories, but I can remember the underground media rumblings a while back when people were saying Pacquiao was being "weened off his substances", and that he "was now a clean man". You never want to give credence to those type of rumors, because without proof, that's all they are.
But the funny thing here is that IMMEDIATELY after those rumors started, we've seen a gradual decline that has now become very suspicious. The change in a once hard-nosed position that went from adamantly protesting drug test to requiring every opponent to take one supports that theory. Foul play or not, at this point, I'm just very weary of any true progress for Pacquiao. The constant leg cramps between rounds…..the stomach troubles….the alleged seizure he suffered (which has not been confirmed). I just see a man whose body appears to be giving all the major signals that the end is near. Will it be on his terms or an opponents? Young Rios could provide the answer. Stay tuned.
Marcus M. (Aventura, FL): There seems to be a little posturing between Team Mayweather and Team Canelo. Who do you think needs who the most – as it relates to negotiations between the two camps?
Vivek W. (ESB): I continue to hear this question surface and it's hard to understand why. Floyd Mayweather has been in the sport nearly two decades…..has shattered PPV records….has dominated fighters worldwide…..and has taken the current era of the sport to new heights. Saul Alvarez has defeated roughly two or three notable fighters, never headlined a PPV card, and still remains under the radar to the non-hardcore fight fan. When we look at the two resumes and the bio's attached, is there really a question who needs who more? Saul 'Canelo' Alvarez is one of the most intriguing fighters on the rise in the sport, but it's almost comical to even attempt to form an argument that somehow says Floyd Mayweather needs him at this stage.
The biggest indicator of this is found in the fact that Mayweather is the highest paid athlete in not only the sport of Boxing, but sports in general; and has done so regardless of the notoriety found within the competition he has faced. Guerrero, Ortiz, Mosley, nor Marquez have ever been known as PPV headlining acts. Yet each of those fights saw Mayweather earn in excess of $28M once the final check was signed, sealed, and delivered. Oscar De la Hoya and Mike Tyson were cash cows. Neither celebrated this type of financial success in their respective era's. If there's any fighter in the history of the sport who doesn't currently need a notable dancing partner to sing and dance his way to the bank, it's the man we call 'Money'.
What I don't like about this is that doesn't force Mayweather to target the top names, but lets keep it real for a sec: If there was such a system in place, who could he really target? All of the men most view to be threats are found weight classes above. Some will argue that Mayweather faced Oscar and Cotto at '54, so why not Martinez and others? Easy question to answer. Oscar was the cashcow and he occupied the seat Mayweather was trying to claim at that time. Cotto was a dangerous puncher, but clearly a small jr. welterweight (in comparison to the average). This logic sheds light on why Mayweather won't take a fight at 154lbs against Alvarez.
Alvarez walks around better than 175lbs. On fight night, he hydrates to 170+. Mayweather would give up more than 20lbs, which is why I don't see him feeling a need to endure such a risk. What's funny is that many who push him to do so supported Pacquiao for implementing catchweight clauses to overcome the same challenge. Mayweather spoke adamantly against it, and now won't take the hypocrisy road by joining those ranks. Bottomline, Mayweather can continue to earn top dollar with or without Alvarez. Alvarez doesn't have the same option. This reality sheds light on who needs who. Alvarez is in no position to dictate terms. When Mayweather was the smaller star (against Oscar) he made concessions because he needed Oscar. Alvarez will have to do the same, as he needs Floyd more.
(Vivek "Vito" Wallace can be heard every Monday night on Left-Hook Lounge Radio at 9ET/6PT. He can also be reached at 954.300.5692, Twitter (@vivekwallace747), Instagram (ViveksView), and FaceBook).