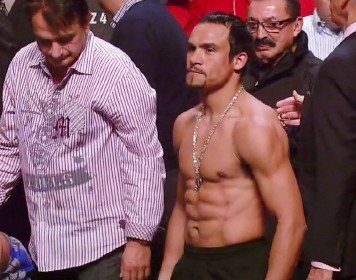 Top Rank promoter Bob Arum is holding September 14th for an HBO pay per view fight between WBO welterweight champion Tim Bradley (30-0, 12 KO's) and Juan Manuel Marquez (55-6-1, 40 KO's) unless Floyd Mayweather Jr. decides to fight on that date, in which case Arum will move the Bradley-Marquez fight to another day, according to Steve Kim.
The Bradley-Marquez fight will take place at the Thomas & Mack Center, in Las Vegas, Nevada, and the fight isn't nearly big enough to compete against a Mayweather fight. Arum has no other choice but to move off the September 14th date if Mayweather fights unless he wants to have low numbers for the Bradley-Marquez fight in terms of buys.
Additionally, WBA/WBC junior middleweight champion Saul "Canelo" Alvarez may find himself in a situation where he and Mayweather will have to decide which one gets the September 14th date if they don't agree on a fight. I can see Mayweather off the date and letting Canelo fight Miguel Cotto or whoever Golden Boy chooses to match him against. Mayweather would then have to fight at a later date, but not much later because he's got squeeze in his five remaining fights within the 30 month time frame as part of his contract with Showtime/CBS.
Arum had said in the past that he had no problems going head to head with Golden Boy fight cards on the same night. He thought it was a good thing for boxing and he mentioned that a lot of boxing fans have Tivo and they would simply TIVo the other fight card and watch it later. However, it's a different story when you're talking about two PPV cards on the same night on different networks. We're potentially a bill of $120 for the two PPV cards combined on a single night, and I can't imagine there would be too many boxing fans willing to do that.