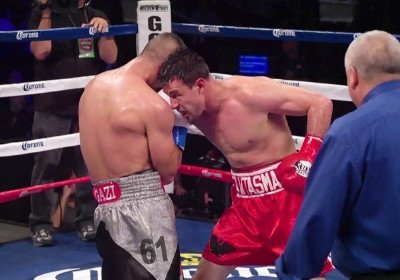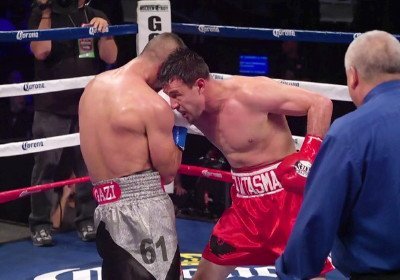 WBC 154 lb. champion Saul "Canelo" Alvarez is pulling for WBC interim welterweight champion Robert "The Ghost" Guerrero (31-1-1, 18 KO's) to cause a big upset on May 4th by beating undefeated WBC welterweight champion Floyd Mayweather Jr. (43-0, 26 KO's) at the MGM Grand in Las Vegas, Nevada.
Canelo said to esnewsreportingcom: "Anything can happen in boxing, but I hope Guerrero wins."
It's interesting that Canelo is hoping that Guerrero gets the victory because this would be something that would hurt Canelo by having Mayweather's unbeaten record taken away by somebody else. That undefeated record is obviously something that helps bring huge money to Mayweather with fan interest. Once Mayweather is beaten by someone you've got to figure that a lot of the fan interest will start to die down, especially if it's a bad beating.
Is Canelo pulling for Guerrero out of spite for Mayweather due to him choosing not to agree to fight him in September or is Canelo merely pulling for Guerrero because both of them are Mexican in ethnicity? It would seem kind of silly to want to get back at Mayweather simply because he doesn't want to fight him right now. Can you imagine Canelo at 36 wanting to fight someone that's bigger, and younger than him? I can't see it happening.
I doubt that Canelo will still be a relevant fighter by the time he's 36 because his game is built more on strength instead of speed, and he's going to obviously slow down as he gets older and take a lot of punishment. But I can't see Canelo wanting to fight unproven upstarts when he's 36. He'll likely be doing what Mayweather is doing by being selective about his fights.
Guerrero doesn't have much of a chance in this fight regardless of whether Canelo is pulling for him to win or not. Guerrero is going to have to come up with some better skills than the ones he showed in his recent win over Andre Berto because he's not going to be able to count on holding and hitting and getting knockdowns that way against Mayweather. If he starts fouling then this fight could end in a disqualification because I can't see Guerrero getting away with one-fourth of the stuff that he got away with against Berto.