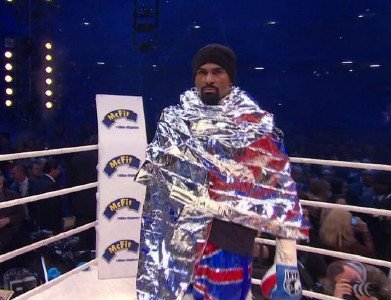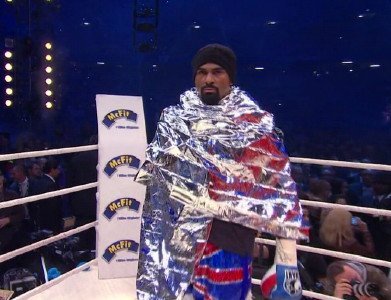 Former WBA heavyweight champion David Haye (26-2, 24 KO's) will be holding a London press conference this Thursday at which time he's expected to announce his comeback, and his two-fight plan to get himself locked in as the mandatory challenger for IBF/IBO/WBA/WBO heavyweight champion Wladimir Klitschko.
The 32-year-old Haye, who hasn't fought since last July in beating 2nd tier heavyweight Dereck Chisora by a 5th round TKO, has given up trying to talk WBC heavyweight champion Vitali Klitschko into fighting him. Haye now wants to force the issue on his brother Wladimir by fighting two quick fights against top tier opposition to get himself locked in as Wladimir's mandatory while at the same time putting him in a better spot to get more money than he would if it were to be an optional title defense.
Haye retired after getting beaten by Wladimir two years ago in 12 round unanimous decision. Haye said at the time that he didn't want to fight beyond his 31st birthday. However, he now realizes that at 32 he's still a young fighter, and he wants to fight Wladimir and capture his four world titles.
A win over Wladimir would set up a big money rematch with him and/or perhaps his brother Vitali looking to even the score. The money that Haye can get from those fights is mind boggling if he can beat Wladimir. That's the real tough one because Haye didn't seem to fight with a sense of urgency until the 12th round when he faced Wladimir in 2011.
Haye has to fight much better than that if he wants to pull off the upset next time. Of course, none of this will matter if Haye can't win his next two fights, which are expected to be in June and October. He needs those victories to lock himself in as Wladimir's mandatory.