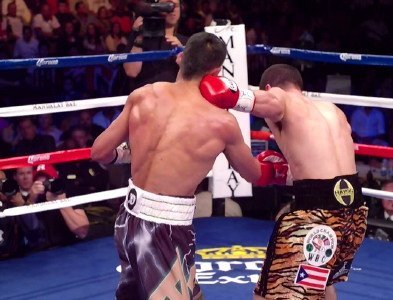 By Michael Collins: Amir Khan considers his next opponent the light hitting #10 WBO lightweight contender Carlos Molina (17-0, 7 KO's) a tough opponent rather than just a soft touch which is what the 26-year-old Molina surely appears to be. No one would blame Khan for taking a light touch at this point in his career because he's beaten in his last two fights against Lamont Peterson and Danny Garcia, although Khan feels he deserved the win in the Peterson fight. The judges obviously felt different after watching Khan shove Peterson around the ring for 12 rounds.
Khan said to the Dailystar.co.uk "I could have picked an easy fight but I'm going to have a tough one next because I want to bring the world titles back to Britain."
A tough one? As far as I can tell, Molina has never fought contender before and is woefully inexperienced against high caliber opposition. Besides that, he's a lightweight, not a light welterweight. Khan is really a big light welterweight, more of a welterweight fighting against light welterweights. So in choosing a lightweight to fight, Khan is facing a guy is much smaller than him in weigh, height, reach and body frame. I don't know what Khan's definition of what he considers a "Tough one" but I don't see the 5'6″ Molina as fitting that category. He's more of a light touch than anything, a fighter without the power or the size to compete with Khan.
Now if Khan were to fight a rematch with Breidis Prescott, as flawed as he is, I'd definitely put Prescott in the "Tough one" category because he can be really tough to beat. None of Prescott's losses have been situations where he was easily beaten. He got his pound of flesh in every one of his defeats, and I think he would be a formidable opponent for Khan, and one that would draw a great more interest than seeing Khan beat up a small lightweight while bragging about how he's not an easy opponent. Let's be real about this.
Molina IS an easy opponent because he doesn't have power or the size to trouble Khan. If Khan's going to look for his opposition from the lightweight ranks, sure I think he'll do well. But this isn't a fight that is going to lead to Khan bringing back the titles to England like he says. This is more of a time waster because he'll lose three months of his career on this fight, and will be in the same situation where he'll be in big trouble once he has to fight a slugger like Lucas Matthysse, Mike Alvarado or Danny Garcia.
Golden Boy Promotions can't maneuver Khan around those fighters if Khan is serious about wanting to bring the titles back to Britain like he says he wants to. Khan's new trainer Virgil Hunter isn't going to be able to give Khan enough defensive skills to keep him from getting hit, and once he gets hit he's going to be in a world of hurt against the likes of Matthysse, Alvarado and Garcia.