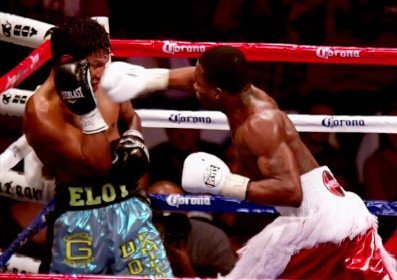 By Rob Smith: If former WBO welterweight champion Manny Pacquiao is able to get through his next fight against whoever his promoter Bob Arum picks out for him for November 10th, Pacquiao might want to consider facing 23-year-old unbeaten lightweight Adrien Broner (24-0, 20 KO's) because he's definitely interested in taking on Pacquiao.
Broner told Fighthype.com "I ain't got nothing against Pacquiao. He just can't beat my big brother [Floyd Mayweather Jr.]. If he [Pacquiao] signs that dotted line, I'll f*** him up too…He used to not getting his hands raised. How many losses he got?"
That would be a real interesting fight if Arum would allow Pacquiao make it. I don't foresee that happening ever, at least while Arum is around, because Broner fights for Golden Boy Promotions and the chances of Broner being allowed a fight against the Top Rank promoted Pacquiao are probably about zero. It would be a great fight for both Top Rank and Golden Boy because of the money it would generate.
Broner has a fighting style that is like a copy of Floyd Mayweather Jr. He does everything that Mayweather does in the ring with more power. Having Pacquiao fight Broner would be a good warm-up for a Mayweather vs. Pacquiao fight. However, I'm not even sure at this point if Pacquiao could even beat Broner. Pacquiao looked poor in his last fight against Tim Bradley and he looked equally bad in his fight before that against Juan Manuel Marquez. I rate Broner as a big puncher and better skilled fighter than Bradley. If Bradley was able to out-box Pacquiao then you got to figure that Broner can do it as well.