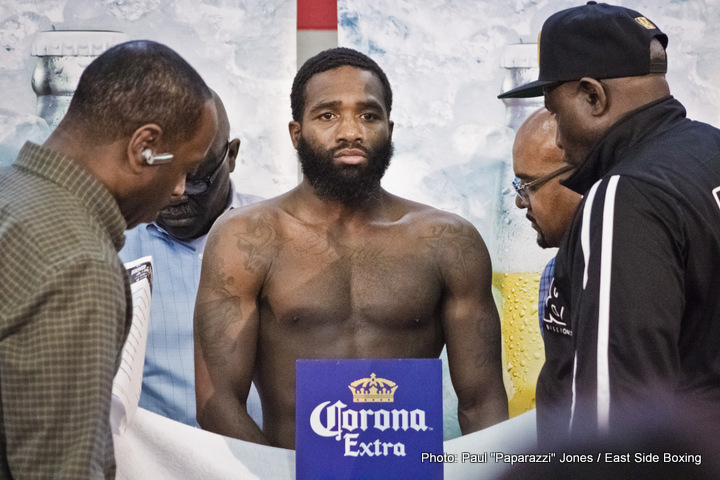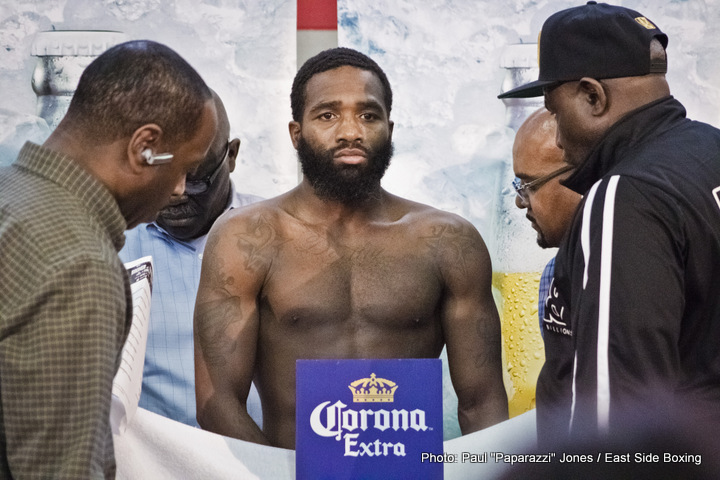 Photo: Paul Jones / ESB – Adrien Broner is back this Friday night to face Ashley Theophane in front of a sold-out Armory crowd in Washington, DC. Even if victorious, Broner will not be able retain his WBA junior lightweight belt on account of being .4 pounds over the 140 pound weight limit. To make matters worse, Broner didn't even attempt to use the 2-hour window given to trim the remaining weight. It just another setback in a series of issues that seem stuck to "The Problem" like glue.
At this point his initials "A.B." should stand for about buffoonery, about bail, about bulls–t, instead of his self-made moniker "about billions". The Captain of a sinking ship, Broner in the last few years has done just enough inside and outside the ring to stay afloat. Losing his second title on the scales may not be the worse of his problems with a recent civil suit against Broner brought to light. "The Problem" will turn himself in to Cincinnati authorities on Monday and likely post bail. What happens after that is anyone's guess. He could go to trial, opt for a plea, or settle the civil case out of court.
The focus is everywhere for Broner expect on his opponent, a hardened vet who will come in to the ring in great shape and as hungry as ever. Just a simple boxrec.com peek at Ashley's record doesn't tell the whole story. Sure, Theophane doesn't own a signature win but his performance versus Danny Garcia several years back is good enough reason for this scribe not to label it a mismatch. Theophane's close losses paired with an uninspired Broner, is a clear signal to any gambling degenerate (term includes me) to put some doe on a major underdog.
Broner has struggled a few times with guys that aren't on his skill level and Theophane is catching his foe at the perfect time. Distracted and possibly weight drained, Broner is a ticking time bomb waiting to explode. Especially if he follows the game plan that his team has talked about in the lead up, and that is to attack out the gates in effort to get Ashley out of there within the first four frames. Clearly, speed and skill, not to mention name recognition, makes it a tough task to overcome for Ashley.
A closer look at the Theophane vs. Garcia fight gives some clues that the London native has the goods to pull the upset. The Brit sports a good ring IQ and decent defense to go along with timing. His jab and overhand right will be the key as he bulldozes his way to the inside. Theophane was able to time Garcia and at times land the shorter punches on the inside. Garcia finally got his timing down and that was the difference in the mid-to-late rounds. The biggest flaw that stood out was Ashley reaching when he threw his right hands from time to time.
When Broner's behind a shell defense and in shape, he's a hand full for anyone at the 140 pound division. Ashley will need to get Broner out of his comfort zone, which for A.B. means taking some punches early as he slowly begins to walk down his opponent. Once he has his man timed, usually it means curtains for Broner's opposition. Broner will than use timing and hand speed to land his biggest shots as he traps fighters on the ropes.
If Ashley can push the pace forward behind his steady jab he could get Broner on the move. For all the flashy punches and trash talk, Broner is a very mediocre operator on the outside. He doesn't really have the chops to counter punch and defend on the move. Or at least he's not as effective in boxer-mode as he is stalking. The more ugly and rough Ashley can make it the better his chances will be for victory.
The first half of this fight will be intense as Theophane gets off in bunches while mixing aggression with smarts. Landing a jab-right hand combination and stepping to the side is just as important as smothering Broner on the inside. Once inside Ashley will need to make it so Broner can't get a full breath. Land thos short punches on the inside, than either leave the pocket or lean on Broner to help further the cause.
Sounds much easier on paper but let us not forget that Broner can delve out punishment to the body with the best of them. Whether it's at the halfway point or maybe 7, 8 rounds in Broner will have caught up to Ashley's tricks. In the last chunk of the bout, Broner's timing will lead to landing power shots that woo the DC crowd and judges enough to scrap by once again.
From solid pros like Ponce De Leon and Paulie Malignaggi, to second-tier guys like Emmanuel Taylor, and even Fernando Quintero, all of them came close to getting decision wins over A.B. If Ashley were to win, on the betting books this would be the biggest upset of all the fighters listed, making it a must for any bettors to put even five dollars down (hedged) with such a big payout on Theophane. Like many other Al Haymon PBC fights, this one will be much closer then the media and general public anticipate.
My official Predictions is Adrien Broner by Majority Decision.
Side Note: Keep an eye out for the other two fights on this PBC Tripleheader. Gervonta Davis (14-0, 13KO's), an up and coming prospect out of nearby Baltimore, will lead off the show against Guillermo Avila. In the co-feature, unbeaten prospect Robert Easter Jr. has his eyes set on becoming a contender and will need to beat former champion Algenis Mendez to prove it.
Written by Chris Carlson Owner & Host of the Rope A Dope Radio Podcast blogtalkradio.com/ropeadoperadio Follow on Twitter @RopeADopeRadio