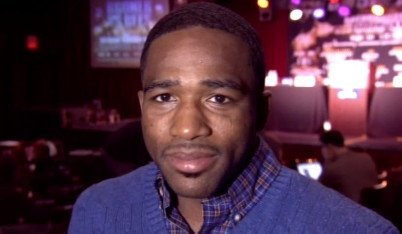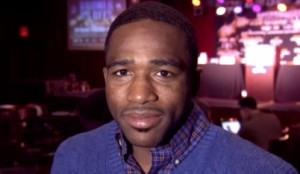 By Jeff Sorby: WBC lightweight champion Adrien Broner (25-0, 21 KO's) is ready to give up on the 135 lb. division if he can't get a unification bout with WBO lightweight champion Ricky Burns (35-2, 10 KO's) in the near future.
Broner, who has what amounts to be as a stay busy title defense tonight against the over-matched 5'4" Gavin Rees (37-1-1, 18 KO's), wants to face Burns to prove to boxing fans that he's the best fighter in the division. However, Burns hasn't been helpful in making the fight, and has twice gone in the other direction when Broner has tried to get him in the ring.
Broner said to Sky Sport "If Ricky Burns don't fight me then I'm just going to go up in weight. That's the fight I've been wanting. Ricky Burns, fight me. You was supposed to fight me this time. You ran again. You were supposed to fight me at 130 at first. You ran."
Broner may have no other choice but to move up to the light welterweight division to seek out bigger and better fights because there's only Burns, Miguel Vazquez, Sharif Bogere and Richard Abril for Broner to fight at lightweight, and none of those are big fights.
Broner wants to fight Burns just for his own personal satisfaction more than because U.S boxing fans are demanding this fight. They aren't pushing Broner to take that fight because few casual boxing fans in the U.S have ever heard of Burns.
What the American boxing fans want Broner to do is move up to light welterweight and face Danny Garcia, Lucas Matthysse, Amir Khan and Lamont Peterson. Those are fights that would generate a lot more interest than Broner sticking around the lightweight division trying to get a fight against Burns.
Broner only has four fights at 140, and then he's going to have to move up to the welterweight division if he wants to find additional fights. Each division has only a limited number of contenders/champions that boxing fans care about, and the division that Broner is currently fighting in at 135, is barren of opposition that fans care about seeing Broner fight.