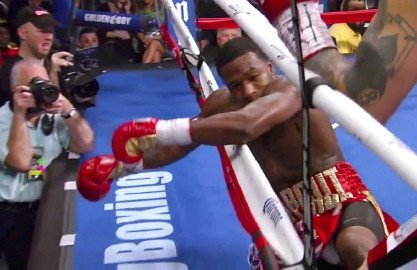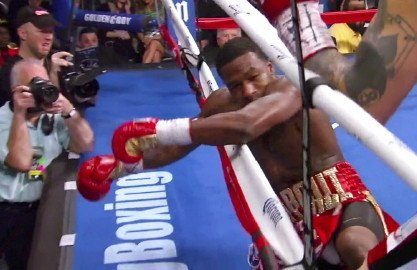 After the bell sounded to signify the end of the match, people were cheering, and giving the middle finger to Adrian "The Problem" Broner who had many problems in his first defense of his WBA welterweight title against Marcos "Chino" Maidana.
While hearing the lopsided scores Broner did not take to his father's attempt at brushing his hair this time. By unanimous decision and new.
Broner wouldn't even stay for an interview, he would get taken from the ring right to the dressing room while people hurled trash at him, which was completely projected how not just the crowd – but most boxing fans feel about Broner and the tactics and antics Broner used in the ring. The camera then watched Broner walking out through the curtain, with his team and guards, his one eye puffy, abrasions all over his face, and lastly, another fitting end of this match, from all of his talk – Broner's mouth cut.
This was Broner's second fight at welterweight since jumping straight up from lightweight. Broner was a lightweight champion. Demarco, who Broner stopped for the lightweight title, was not a lightweight champion in the same calliber as Johnson, Castillo, Mayweahter, Pacuqiao and Marquez. Broner defended his title once and then recently jumped to welterweight to take on WBA champ Paul Maliganni. He beat Pauli by split decision, some thought Pauli won, some thought it was a draw. But that didn't stop Broner, who said in the after fight interview, while his father brushes his hair, their gimmick, that it was an easy fight, and said he not only took Malignaggi's belt, but his girl.
The entrance for this fight, his first defense of WBA welterweight title, and second fight at welter, against Maidana, after he made a lot of pre-fight fuss, with his mouth he didn't know the deep water he was in. This was supposed to be an easy fight but Maidana has been a two time Jr welterweight champion, and knocked down guys like Victor Ortiz (who was, at the time, the second coming, before Floyd beat him) who quit, knocked out an undefeated Cayo, both brutal fights, also out boxed Eric Morales (before Danny Garcia did) and has three understandable losses, in Khan, Alexander, and Kotelnik at 140 pounds. Maidana was coming in with a 5-0, 4 knockout resume' (knocking out Soto Karrass who was fighting up and coming welterweight Thurman in the pre-fight) at welterweight. This was only the second time Broner had ever fought at 147, a natural 135 pounder., Maidana is more than a credible welterweight, and has been in there with the best from 140 to 147, whereas the only 147 pounder Broner has been in the ring with was 32-4 Pauli Maliginna, who only has 5 knockouts to his credit.
Broner looked as if someone pushed the button of high level ego, which seemed inflated, as if he was going to have a very easy night. He would get in the ring and start hopping, making his way to Maidana's face, and personal space, twice, taunting and saying things to him, where Maidana just stood.
After the introductions the first bell rang and Madiana came on strong, almost dropping him a few times, hurting him. Everyone was shocked at the beating Broner was taking the whole first round, holding on to not get knocked down, while Broner held on and at the end of the round, after being beaten up, would do one of the most, irrational, childish thing by turning Maidana around and pretend to hump him from behind, in a very crass, crude manner, after he got beat up the entire round.
When Broner came out for the second, it was worse, getting knocked down for the first time in his career.
After 6 more dominant rounds by Maidana, Broner would then be knocked down in the 8th, and after getting up, hurt, holding Maidana in a wrestling move, Maidana, getting sick of being held onto and pushed away, would give him a little intentional head-butt and Broner would have enough clarity to tell the referee before he, and I've never seen this either, performed a horrible acting job by then falling on his face in pretend agony over his head, while the referee had to tell him to get up.
The only round he seemed to be the boxer on Saturday night everyone thought he was , the 11th, Maidana would turn the tides and then turn him around and hump him from behind, the crowed cheering, finishing that round to his liken, and when the bell ended at the 11th,Broner would hit him.
In the 12th Broner came out knowing he had to knockout Maidana and Chino seemed hurt from getting hit after the bell with his hands down but it was Chino who would have him, the entire fight, "on Queer street" as they say. Broner also seemed to have no concept on how to hold, nor did he understand that you could fight on the inside, as he would push Maidana away more than several times during the fight, and use his forearm and elbow, not to mention an intentionally thrown punch after the bell, he was never penalized.
The scores read in overwhelming favor of Maidana, as the new WBA welterweight champion. He has a bright future. He could fight Mayweather or Pacquiao (however the WBC welterweight champion, Floyd, has Pacquao as his number one contender) or he could have a title unification with undefeated title holders Bradley and Porter or avenge his losses to Khan and Alexander, or there are big named veterans, Cotto and Marquez, and younger undefeated stars in Thurman, and Brook. I'd rather see him fight a Provodanikov, Rios, Alvardo, or Mattysse – those fights would be wars. The point is that Maidana now is in the mix with the top welterweights by beating Broner, who was on the Pound for Pound Best list, and a top ten welterweight, which Maidana was not.
As for Broner? It's gonna be a rough road. He's only had two fights at welterweight, one he struggled to get a split Decision, and one he got beaten up very bad, and he talked a lot and instigated things. Some fighters have a loss that they never get over. There are many fights that ruin a boxer mentally. The ones with big mouths have been Roy Jones, Zab Judah, and Prince Naseem Hamed. They were great, and fun to watch, and had brilliant talents, but were not the same after their first loss.
Broner now has to work his way back up, at I'm guessing it will be at welterweight, or if he can make or Jr. Welterweight go down in weight. Either way start taking the sport seriously, and respecting it, instead of using it as a platform for his gimmick, crass behavior and stop using the sport as a "Show." He can learn from this and rebuild himself, instead of moving too fast as
David Reid and Fernando Vargas did. Maybe fighting veterans he can learn from, such as Berto and Judah – guys with names where he can establish and rebuild himself.
This was a very fulfilling fight to watch in every aspect, the good guy vs the bad guy, while it was just the wrong guy to take on at the wrong time. They did not take Maidana seriously, and after a boxer gets hurt you can see their character, as we saw Mayweather get hurt against Mosley in the second round of their fight, Mayweather relaxed and used his natural talents to take over. Broner did not do that.