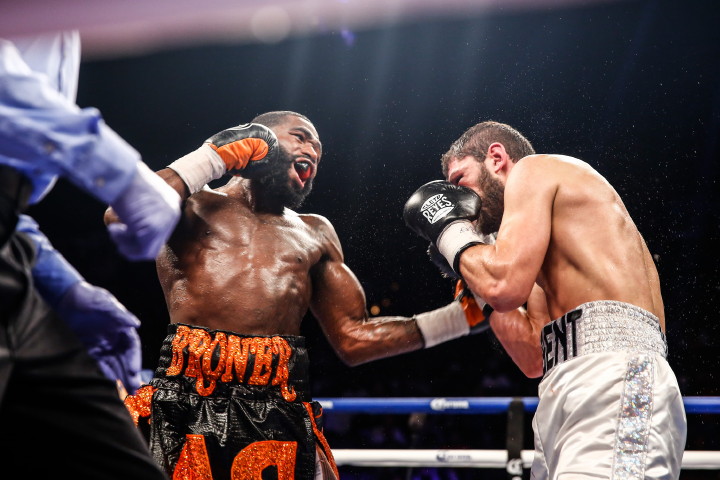 (Photo credit: Stephanie Trapp/SHOWTIME) Adrien Broner (31-2, 23 KOs) scored his 23rd knockout of his career in defeating #4 WBA Khabib Allakhverdiev (19-2, 9 KOs) by a 12th round knockout on Saturday night to win the vacant WBA light welterweight title at the U.S Bank Arena in Cincinnati. Ohio. The referee Harvey Dock stopped the fight after Allakhverdiev took some hard uppercuts in the 12th. It was a very questionable stoppage thought.
It didn't look like a reasonable stoppage at all. Allakhverdiev could have continued fighting. His left eye was in bad shape, but he was handling the shots that Broner was throwing without any problems. The fight was stopped at 2:23 of the round.
Broner was hitting Allakhverdiev with solid single shots through the entire fight, but he was also getting hit a lot by Allakhverdiev. Broner's defense was far from impregnable. He was also backing up against the ropes and getting hit a lot.
We don't know how much Broner weighed tonight, as he chose not to be weighed. But in looking at how big he was compared to the 150lb Allakhverdiev, I wouldn't be surprised if Broner weighed 160lbs or close to that weight. Broner might have put on 20 pounds of water weight after he made weight at 138.5 at the weigh-in last Friday. I don't know how much longer Broner can keep making weight for the light welterweight division before he grows out. Sooner or later, Broner's body will prevent him from fighting in this weight class.
The southpaw Allakhverdiev landed some nice shots in the 3rd and 4th rounds. But Broner, as big as he was, had no problems handling the power shots that he was getting hit with by the Russian fighter. It helped Broner that Allakhverdiev isn't a big puncher like some of the top contenders in the division are. Broner never had to worry about getting hit with something big like he was getting nailed with in his last fight against Shawn Porter.
Before the fight, it was thought that Broner would increase his punch output to throw more punches, but he still didn't throw a massive amount of shots like he needed to do for the fight to be an easy one.
"I'm going to fight whoever I want to fight whenever I want to fight," Broner said afterwards. "They say my big brother Floyd Mayweather has a fighter that he thinks can beat me. I think his name is Ashley."
Broner seems to be interested in fighting Ashley Theophane. It wouldn't be a competitive fight because Theophane isn't a top 15 contender. He's with Mayweather Promotions, but he's not ranked in the top 15. Instead of Broner looking to milk his newly acquired WBA light welterweight title fighting the likes of Theophane, he should be trying to fight some top fighters like Amir Iman. If Broner wants to fight a guy that Mayweather is high on, then he should fight Errol Spence. He already knocked Broner out in sparring in the past. Spence would likely jump at the chance to fight Broner at either a catch-weight or at welterweight. At least Spence is ranked in the top 15, unlike Theophane.
Other boxing results on the card:
Jose Pedraza SD Edner Cherry
Jamontay Clark TKO 2 Joe Wilson
Robert Easter Jr. TKO 3 Juan Solis
Jamel Herring UD 10 Yakubu Amidu
Danny Calhoun UD 6 Jamal Woods
Luis Rosario KO 4 Aaron Hollis